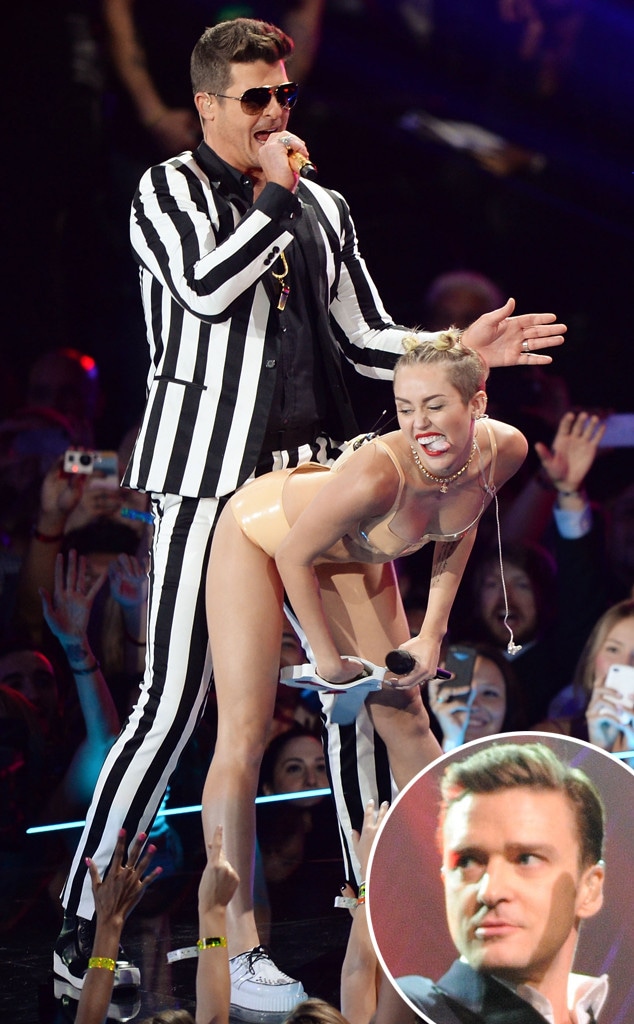 Andrew H. Walker/Kevin Mazur/Getty Images
Justin Timberlake is coming to the defense of Miley Cyrus. Well, sort of.
Sitting down with Today this morning, the 32-year-old singer and actor gave his two cents on the polarizing "Wrecking Ball" songstress.
"I don't know that I have a definitive thought in one direction or the other about it," Timberlake told Matt Lauer. "I think she's really smart, and I think she's really talented. I'm not saying I agree with the presentation, but I also feel like every 10 to 15 years we pick somebody that this is what we're going to do with them, is we're going to make them the model of who we want our daughters to be or not be."
Timberlake is just the latest of many celebs who've given their opinion on Cyrus' edgy style and twerk-tastic new image.
Yesterday, one of Robin Thicke's "Blurred Lines" music video models blasted Miley's VMA performance. "I definitely would say that I didn't approve," Elle Evans told FOX411 News. "It was distasteful, in a way. I was more disappointed than anything. I don't know. It was a little extreme. It didn't have to be that extreme. It would have been a great performance, everyone loves the song, everyone was really looking forward to it, and I was appalled. I couldn't believe what I was watching, honestly."
Meanwhile, singers like Cher and Pink have given their less-than-rave reviews of Cyrus. But pop princess Britney Spears recently came to Cyrus' defense, saying, "I think any time you do a performance that is that memorable, you're going to have criticism. I think she's doing her thing. She's being herself, so I give props to her."