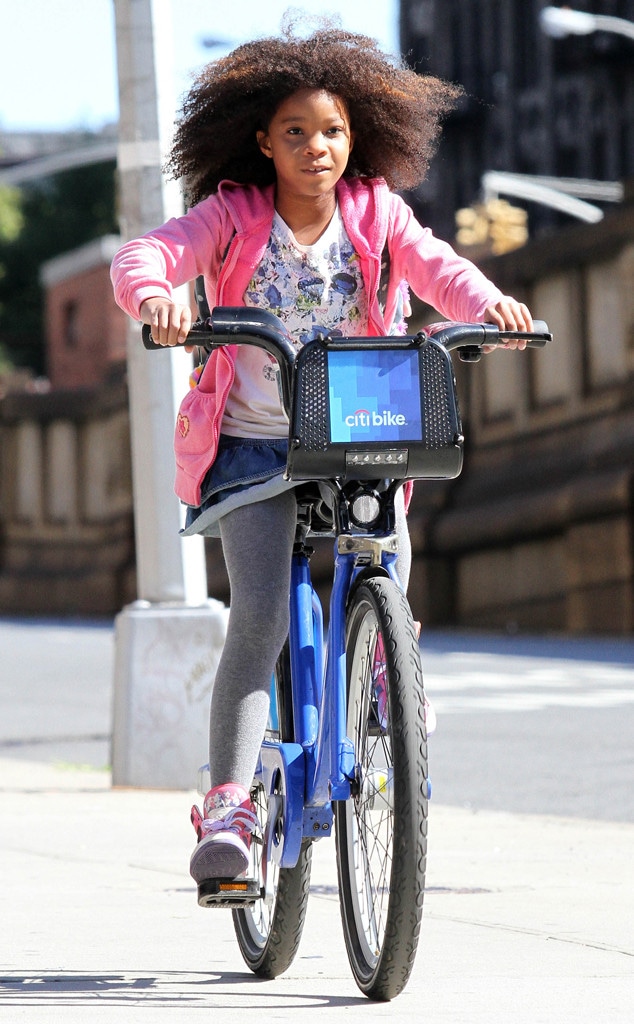 Splash News
She may be looking forward to singing "Tomorrow," but Quvenzhané Wallis is very much enjoying the present.
The Beasts of the Southern Wild star—whom moviegoers may recall is the youngest actress ever to be nominated for an Oscar for her role in last year's indie smash—was photographed Tuesday happily riding a bike on the Harlem set of Jay Z and Will Smith's upcoming Annie remake. 
Wallis, now 10, looked absolutely adorable as she took a public Citi bicycle out for a spin sporting a pink sweatshirt, jean skirt, grey leggings and pink high tops.
The erstwhile Hushpuppy also rocked some massive Annie-like curls that should fit just fine with this African-American take on the classic comic strip turned Tony-winning musical, which was made into a hit 1982 movie starring Aileen Quinn.
For this updated version, Wallis play the titular orphan on a quest to find her parents opposite Cameron Diaz, who'll play the part of the evil Miss Hannigan, who runs the orphanage, and Jamie Foxx as the film's Daddy Warbucks, renamed here Benjamin Stacks, the wealthy politician who eventually becomes Annie's adoptive father.
Given how amazing her performance was at age five when she filmed Beasts of the Southern Wild, we've no doubt Quvenzhané's going to knock this part out of the park!
Annie, which also costars Bobby Cannavale and Rose Byrne, is scheduled for a Christmas Day 2014 release.