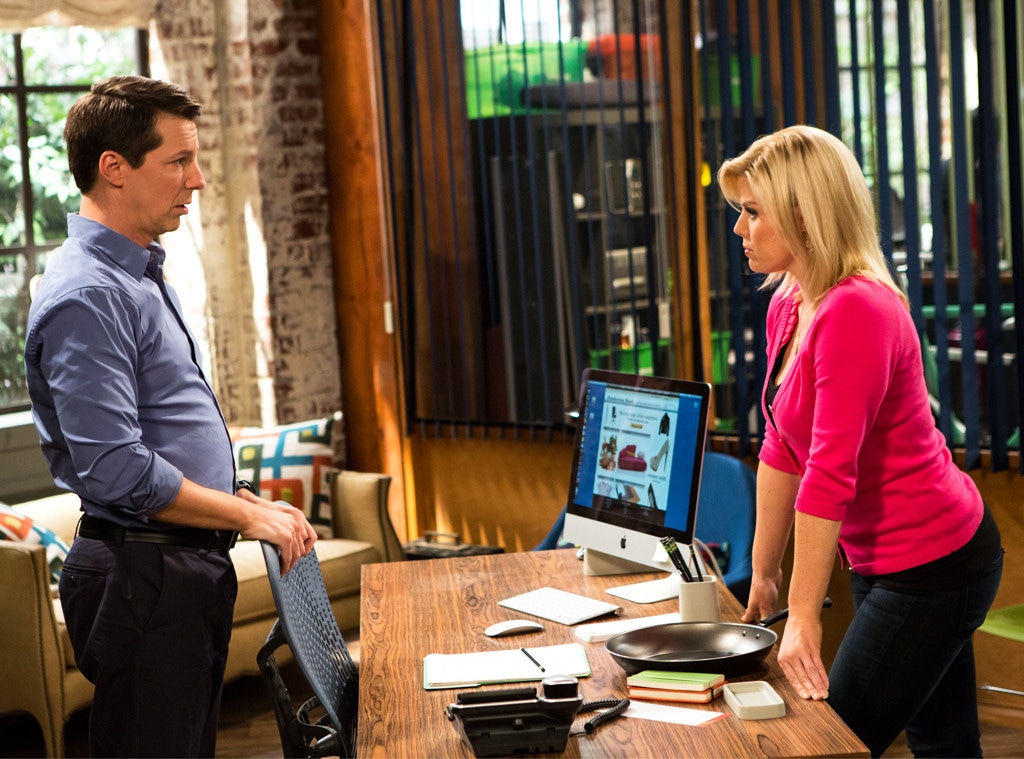 Justin Lubin/NBC
Sean Hayes is ba-aack and this time he's got a blonde, not a brunette, by his side!
The beloved Will and Grace star is set to make his triumphant full-time return to TV with his new NBC sitcom Sean Saves the World, which finds him playing a gay divorced father who must when his teenage daughter moved in with him. And this time around, he's got another female sidekick to banter with! Even better? Smash's Megan Hilty, with whom Hayes shared screentime with on NBC's musical drama, is playing said BFF!
We've got an exclusive sneak peek from Sean Saves the World's series premiere on Oct. 3, which features Hayes and Hilty's characters hard at work...and making a bit of an uh-oh!
The lesson we learned after watching this exclusive clip? Always make sure your colleague/best friend isn't on phone with someone you are about to complain about!
You see, this is exactly what happens to Hilty's character Liz when she barges into Sean's office complaining about the new owner (played by Thomas Lennon), who is on the phone with Sean.  Thankfully, Sean and Liz make a good team and manage to save face, with Sean saying she was talking about the owner "of the deli down the street." Not the best cover, but it'll do.
But then Liz has to go and say those three little words. Yeah, it's awkward and hilarious and you need to watch the exclusive sneak peek above right now!
Sean Saves the World premieres Thursday, Oct. 3 on NBC.
(E! and NBC are both part of the NBCUniversal family.)