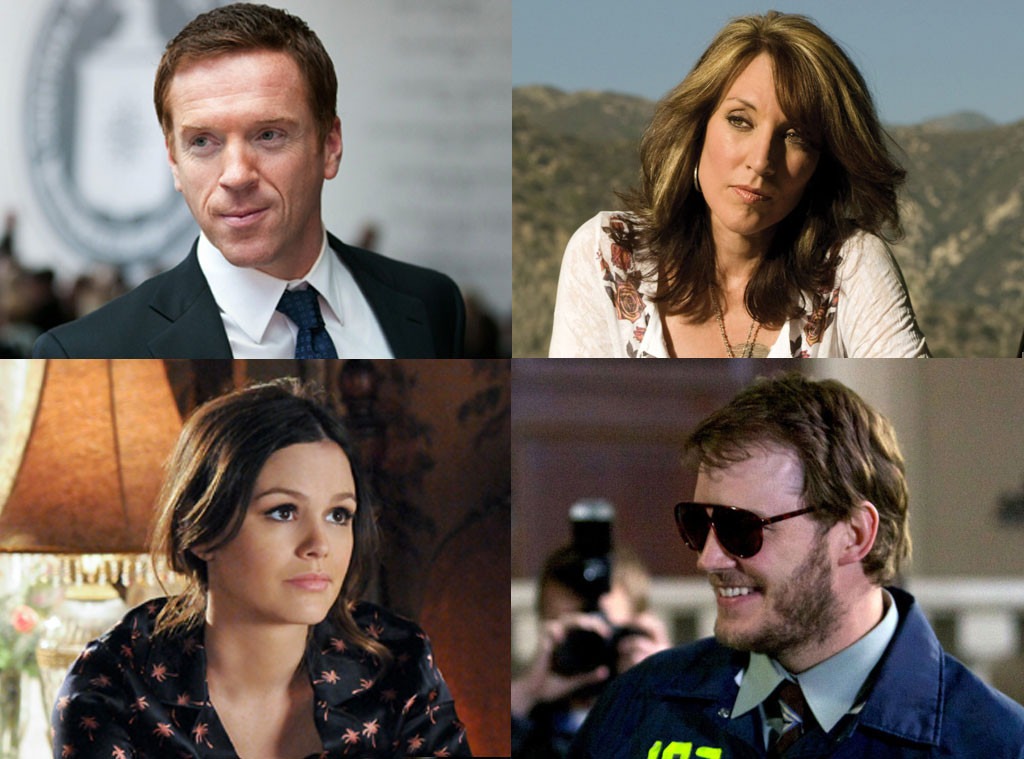 Wake up, it's time for some spoilers!
Today's Spoiler Chat is filled with scoop on Sons of Anarchy's intense jail scene coming up in next week's episode and dish on Carrie and Saul's tense friendship when Homeland returns for its third season. Oh, and we've got the insider info on Parks and Rec's season premiere, including an update on all the fan-favorite couples, as well as a major romance update regarding Dr. Zoe Hart on Hart of Dixie.
Plus, we've got scoop on Covert Affairs, Bates Motel and more...
Cynthia: MoFam?
Simple, direct and to the point, we like that in a reader! Haley is getting a new boyfriend! "I've been told, that there's a new guy coming for Haley that we haven't filmed yet, so I'm just desperately waiting," Sarah Hyland tells us. And while she wouldn't spill who will be playing her new man, she teases, "I'm pretty sure the guy that it is I'm very happy with and is very, very funny, which I'm a big fan of."
Shilo: Congrats, you've become my go-to for Sons of Anarchy spoilers. What have you got today?
What? No trophy? No tiara with a SAMCRO logo? Psh, whatever. But we can't let you down so here's what we know about next week's episode: We'll get more background on Lee Toric, and it turns out he has a very tumultuous past (and present). Toric also does something quite naughty against Clay's wishes, and we can't imagine that situation turning out swell. And speaking of Clay, you won't believe what he does to survive while in prison in episode three.
Jon: Loved your PRex/Ron Swanson clip. Please tell me that he didn't go to London alone because he broke up with Diane over the pregnancy.
No way! The situation is the exact opposite, actually. Didn't you read our Spoiler Chat from last week where we said that Ron will be smiling more in the opening scene that he has over five seasons? Pay attention. Actually, all the couples on that show are in a great place. Even April and Andy, who will be separated for three months after the London trip. Pratt will be missing Parks and Rec episodes to film Guardians of the Galaxy, and his absence will be explained in the premiere episode. Hint: Andy's hiatus has to do with one of the guest stars.
Lilly: I love Brody and Carrie together on Homeland, but I'm actually more interested in hearing how Saul and Carrie are getting along in the new season. What can you tell me?
In episode two, Saul does something that is pretty unforgivable in Carrie's eyes. Seriously, we aren't sure if those two will ever be the same again after what he does. And the final moments of that episode will put a knife in the hearts of fans who adore Saul and Carrie's relationship. It's very hard to watch. Sorry to be the bearer of bad news…Can we interest you in a virtual hug?
Joshua: Can't wait for Bates Motel to come back! Any scoop on what we can expect in the new season?
Though the handsome and dearly departed Mike Shelby is no longer around, Norma will still have a deputy to deal with in season two. The A&E hit is currently looking to cast a new cop to assist Nestor Carbonell's Sheriff Romero: Patti Lin is ambitious, smart, eager and good at her job, which definitely means trouble for our favorite mother-son duo.
Dana: Hart of Dixie, please!
Looks like things are getting serious between Zoe and new beau Joel, played by Josh Cooke, in season three. So serious that his family is coming to town to meet her! Fans will meet Sylvie, Joel's sweet, warm and charming aunt, when she comes to Bluebell to celebrate Hanukkah with the couple. (Hmmm…no Chrismukkah celebration?!)
Tyson: Haven't heard anything about Emma on the new season of The Following. Is she not appearing in season two?
Well, she might not be appearing in the first couple of episodes, but her character is still there in her own way. Cryptic, enough? OK, well in episode four the FBI will be on a massive hunt for Emma, meaning no one has found her yet. One of Joe's followers knows her whereabouts, and the fun really begins when she falls into the hands of some FBI agents.
Veronica: Covert Affairs season finale nearly killed my Annie-Auggie shipping heart! Please tell me they get back together!
Sorry to burst your bubble, kill your dreams, kick you when you're down, etc., but Auggie will be spending time with a new lady when the show returns.  Beautiful and smart with a bit of an edge, Sarah Tam is a gifted officer Auggie needs for a top-secret mission. Though they start off a bit rocky, a tentative friendship forms between the two.