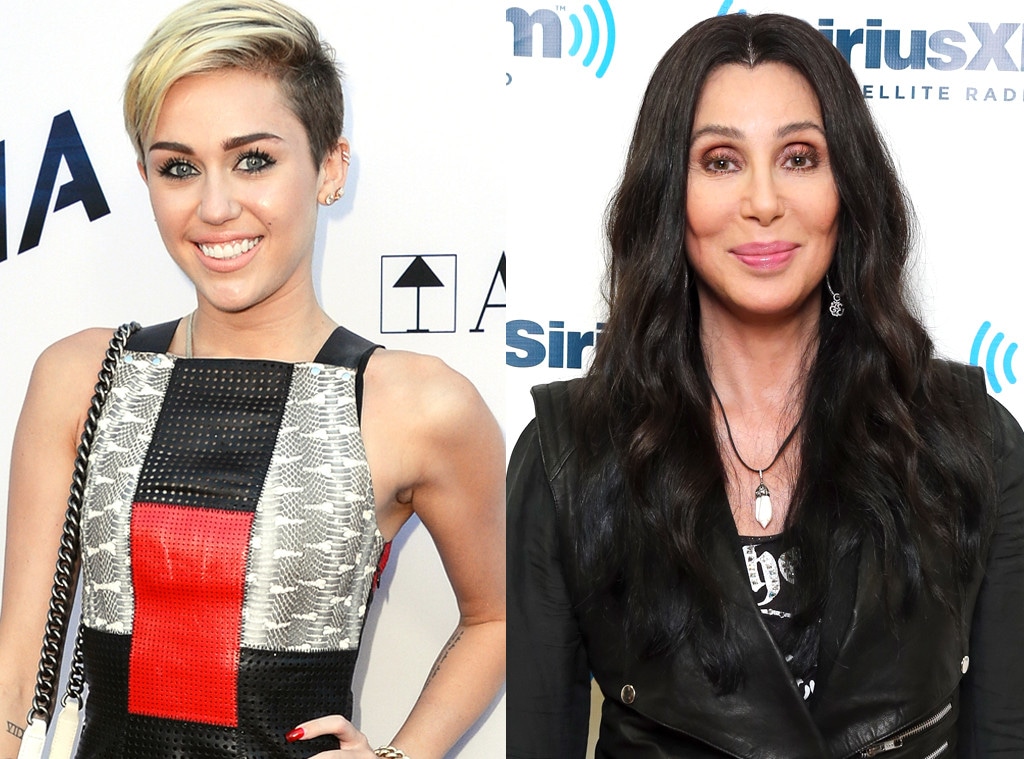 Getty Images, Invision/AP
Cher's no hater, y'all!
The 67-year-old icon created some controversy when she admitted to E! News she wasn't crazy about Miley Cyrus' twerktastic performance at the 2013 MTV VMAs. But on Wednesday, Sept. 17, Cher took to Twitter to clear up what she meant when she said Miley should "do better."
"Re:Miley S....I Think What I Think,but Having Said That...I'm a little ashamed (which is Total bulls--t,how can u B a LITTLE ASHAMED) that…I didn't keep my big Opinionated mouth Shut," Cher wrote.
"WTF is MY PROBLEM ! I'm 2 Old  to fall prey 2'Tell us, Oh wise 1,What did YOU think of M.S ? '" she continued. "What I should have said,"I didn't like it that much,but she's Pushing The Envelope,being an ARTIST ! She's Talented,& DIDNT COMMIT A FELONY" 
"But somehow my ego had 2 get ITS 2 CENTS IN! MY BIG ASS 'BAD',I DIDNT SUPPORT A FELLOW ARTIST," she tweeted. "TRUTHFULLY SHE WAS Fkng BRILLIANT..CAUSE...WE'RE STILL TALKING ABOUT IT. Ps this is Not an apology 4 what I Thought,its a Reminder,that if I don't practice my principles,I loose Them." (BTW, grammar snobs, don't get your latex lingerie in a bunch over any typos or misspellings here, or as Cher tweeted to one detractor, "FOR THE LOVE OF GOD, GET YOUR FKNG PRIORITIES STRAIGHT ! PULL UP YOUR BIG GIRL G-STRING & SAY I CAN BEAR IT IF CHER CANT SPELL.")
Glad that's cleared up. Now the Queen of Twitter and the Queen of Twerk can be BFFs, OK? They both have albums out in October, and Cher might could teach Miley a think or two about believing in life after love--and broken engagements.