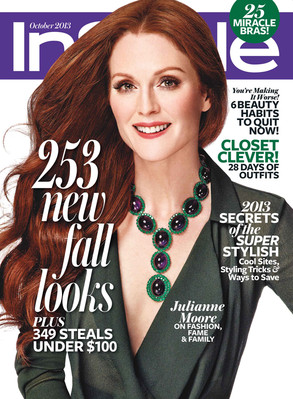 InStyle by Giampaolo Sgura
Getting older in Hollywood can't be an easy task, but actress Julianne Moore has managed to age with grace in the age-denying town.
"I can't complain. I've been pretty lucky," the October InStyle cover star, who was just cast in The Hunger Games: Mockingjay Parts 1 & 2, tells the mag when pressed about women getting good roles in their mid-50s.
"And I think the more we talk about it, the more we make it real," the 52-year-old Academy Award nominee continued. "I hate being asked this stuff! Let's appreciate where we are. Let's not wish our lives away."