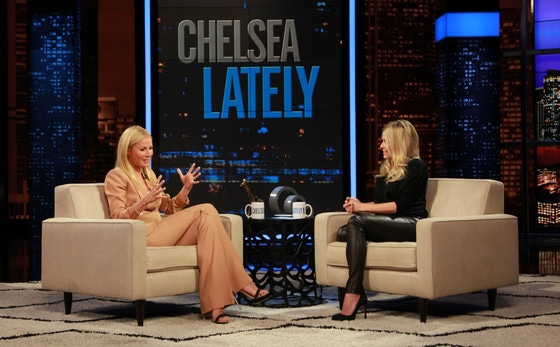 Is Chelsea Handler a bad influence on Gwyneth Paltrow?
Paltrow stopped by Chelsea Lately Monday night to chat about her new movie Thanks for Sharing, which centers on a man (played by Mark Ruffalo) who suffers from sex addiction. Naturally, Handler took full advantage of the topic.
"You're a sex addict," Handler said jokingly as Paltrow sat down for the interview. "Well, basically I was a really normal person," Paltrow fired back, "and then I started hanging out with you all the time."
Being friends with Paltrow, Handler could poke some fun at her guest...by posting a promotional pic for the movie of Paltrow wearing sexy black lingerie, for example.
"You're naked a lot," Handler said of Paltrow's role in the movie. "Well, not naked...right?"
"Well, almost," Paltrow admitted.
"Do you show your vagina?" Handler asked. "Only to you," replied Paltrow.
It's understandable why putting Paltrow in lingerie would be part of the movie's marketing campaign. The Iron Man 3 star looked radiant walking out onto the stage, sporting a slim Michael Kors suit and very high heels.
"What a vision!" Handler said, greeting her guest. "Thank you for taking time out from working out to come here."
But for all of Paltrow's healthy habits, there's one vice that she admits to. "I smoke sometimes," she told Handler. "I smoke one at a party every once in a while."
"Yeah, my problem is I'm at a party pretty much every night," said Handler.
What's next for Paltrow's movie career? For now, Paltrow is unsure as to whether she will be returning to her current blockbuster series. "I don't even know if there is an Iron Man 4," Paltrow said. "I hope there is an Iron Man 4, I hope I'm in it."
Catch all-new episodes of Chelsea Lately weeknights at 11/10c, only on E!