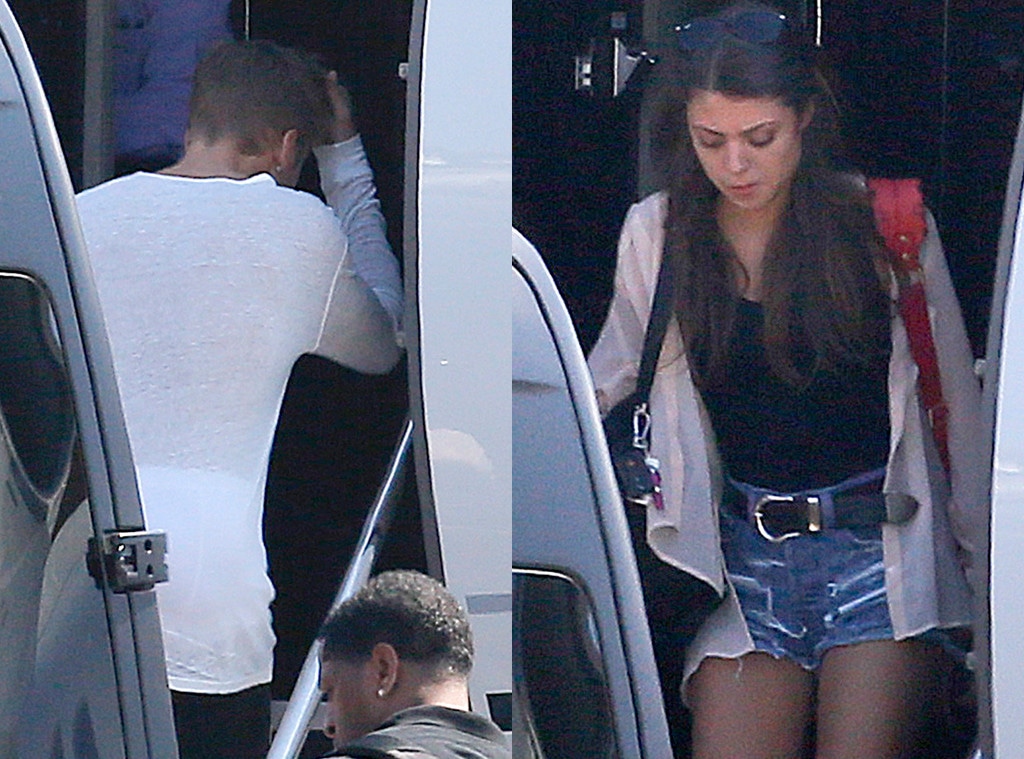 AKM-GSI
Could Justin Bieber have a new lady in his life?
On Saturday, the 19-year-old singer was spotted boarding a private jet with rumored new girlfriend Jacque Rae Pyles. The two were on their way to Las Vegas to catch the Floyd Mayweather vs. Canelo Alvarez boxing match.
In pics snapped of the two at the airport, the Biebs boarded the jet first with his little brother, Jaxon. Pyles, who was wearing short shorts with a black top and a light pink blouse, followed behind them.
Bieber tweeted on Saturday, "On my way to see the champ. #vegas."
Pyles, a singer and dancer, posted a pic of herself on the posh jet on Saturday, writing, "so obsessed with this outfit and my @teddierevival jewelry." In the pic, Pyles sports a colorful tight skirt and top that revealed her midriff.
Pyles' personal stylist Jazmin Whitley, who put together her look for the Bieber trip, tells E! News exclusively, "For the fight in Vegas, Jacque wore a two piece crop top and a fitted skirt by Motel Rocks. It was really fresh, young and on trend, I also wanted her to wear something that would be appropriate if she was going to grab dinner before the fight or if she happened to be celebrating after the event."
"I did not fly out with her for this event," she continued. "For this event, she came by my house. It was kind of last minute, she came over on Thursday and we got to hang out and try on a bunch of looks that I pulled for her. She was excited about attending the event. She is always out and about, and we are going to film a fashion segment soon."
Since being snapped with Bieber, Pyles has been on the receiving end of some hate (and support) from crazed Bieber fans. She replied to one disgruntled fan on her Tumblr page, "And you don't have any other stuff going on in your life so you have to harass me and stalk my social media…. How pathetic."
She also replied "much love babes" to a sweet message from one kind fan praising her for how she's handling the hate.
A rep for Bieber declined to comment on reports of Jacque being his rumored new love interest.
—Reporting by Ruth O' Neill