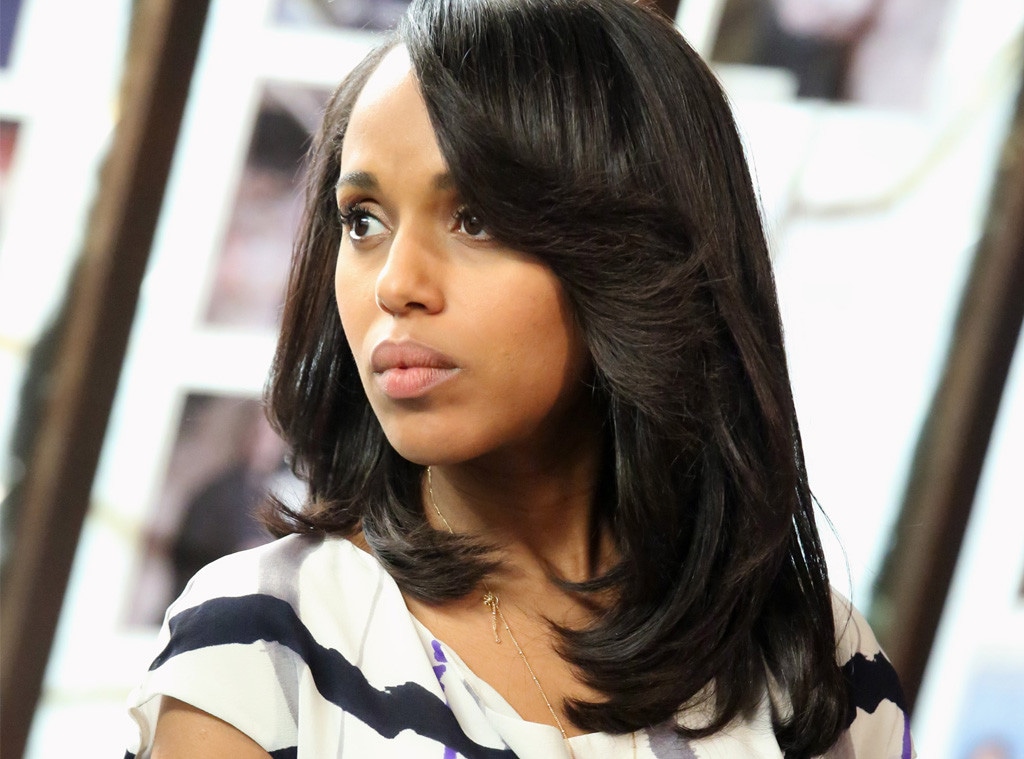 ABC/Richard Cartwright
Mmmm...don't you just love the smell of fresh scoop in the morning?
In today's Spoiler Chat, we've got some especially juicy spoilers that will pair perfectly with your coffee, including what to expect from Scandal's highly anticipated return, Sons of Anarchy's next episode and a very important How I Met Your Mother romance update. Oh, and we've got scoop on American Horror Story: Coven, courtesy of one of the drama's most bewitching stars!
Plus, we've got scoop on The Americans, Modern Family's college shenanigans, Suburgatory's new love interest for Tessa and more...
Conner: I'm quite bummed to hear from you guys that Jackie will be using again in the new season of Nurse Jackie. Is there any hope for her?
Actually, yes. Jackie is still going to support groups, but that's not what will help her. She'll meet someone just like her—you know, no-BS, tells it like it is, etc., and this woman might be just the person she needs to pull her out of her drug spiral. Here's hoping.
Lyla: Obsessed obsessed obsessed with the American Horror Story promo featuring my favorite, Sarah Paulson. Do you have any spoilers on her character and storyline?
Good news, we just talked to Paulson about Coven, and she told us that this season will be more fun than Asylum and it's a story about the "forgotten" people. "I definitely feel that this season has a lighter tone. There is some humor there. Jessica [Lange]'s got some real zingers this year," she says. "Last year, to me, was really extraordinary because it was really about something and that time period in our country's history. But I sort of feel like this year Ryan [Murphy] finds a way to tell the story of the forgotten and left behind and that's what he does so brilliantly and this will be some of that as well. But there are a lot of powerful women and there are some extraordinary actresses on the show and some real powerhouses, so the fireworks are liable to fly!" Is it October yet?
Quincy: Sons of Anarchy request here. Wondering what the connection is between the SAMCRO group and the school shooting. Any hints?
You will find out the connection in tonight's episode, and the person who has the connection with the school shooting is one of these three people: Juice, Nero or Bobby.
Watch:
Dan Bucatinsky Previews Next TV Project
Shania: Need. Scandal. Scoop. Now.
How about a juicy tease from the show's Emmy award winner Dan Bucatinsky? "You will find out who leaked the information about Olivia Pope and the president," he promises of the season premiere. But how about a clue about who it freakin' was?! "For that, watch our interview with the dapper actor above!
Sasha: I know that this season of How I Met Your Mother is all about Ted meeting his wife, but can we talk about Lily and Marshall for a bit? What will they be up to in the final season?
Lots and lots of not seeing each other. But not because Lilypad and Mashmallow are in danger. We just talked to Alyson Hannigan about the final season, and here is what she told us: "It's a funny season, how it's playing out, because they're not together in the beginning of it and the whole season takes place in two or three days. So mainly our stuff is playing out over the phone." But rest assured, there will be situations where we see Lily and Marshall in the same place at the same time being adorable. "The good thing is that because we've done flash-forwards I know that they are still together. I know that they make it."
Tyson: You guys never give up The Americans spoilers. What gives?
We're not ones to just "give it up" on the first question. But since we happened to have stumbled across some juicy info, we'll spill. The Americans is looking to cast a new recurring character in season two, and this guy sounds an awful lot like a new love interest for Elizabeth. Charming, smart, politically savvy…he's right in her wheelhouse.
Kellan: Anything on the new season of Modern Family, please!
How about that it's ridiculously awesome?! "The new season's so good! Our writers are just so amazing and they just keep coming up with these amazing storylines," Sarah Hyland gushes. "Haley is in community college now, so she's just started to go to community college. You would think that since she's back in college [that] she's kind of starting to take things more seriously, but because it's community college she doesn't really. Not trouble, she's just not taking things seriously. Same old Haley." And we wouldn't want it any other way!
Helena: I haven't heard anything at all about Suburgatory. Is it coming back?
Yeparoni. And even better, they won't be using words like yeparoni. The ABC comedy is slated to return sometime midseason (exact date TBD), and they will be introducing a new love interest for Tessa, who will stick around for much of the season. His name is Mark and they haven't cast the actor yet, but he will be a cute, intellectual boy she meets at a party, and the complete opposite of Tessa's last boyfriend, Ryan.
Want the latest TV scoop? We got it! Tweet your Spoiler Chat questions to @KristinDSantos or email them to tvdiva@eonline.com!