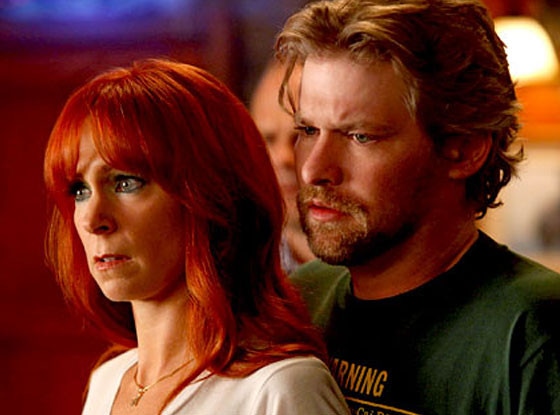 John P. Johnson/HBO
The day was bound to happen—the end of True Blood.
Fans of vampire series may have been surprised when HBO announced earlier this month that next season would be its last, but the stars of the fangtastic show had a feeling something was brewing.
"We were all suspecting it, because all of our contracts were up so they did a renegotiation for one more year and so we thought, 'Oh, it's coming,'" Carrie Preston, who plays Arlene on the show, told me at the Creative Arts Emmy Awards, where she picked up an award for her work on The Good Wife. "But then when you hear it, it's like, 'Oh!,' this pang."
The True Blood cast and crew received official word from show runner Brian Buckner. "He sent us all an email saying, 'Just so you know, tomorrow there's going to be an announcement.' It was all very gooey and sweet."
The final days of filming will be bittersweet, Preston said. "I think we're going to be counting our blessings and really trying to make the most of every moment."
True Blood's final 10 episodes are set to air next summer.
"From the moment I read [Charlaine Harris'] books, I thought there was potential for something really special," series creator Alan Ball said in a statement. "Then our amazing writers, cast and crew brought her world to life in a way that exceeded my wildest expectations.
"I'm deeply grateful to HBO for being true partners and collaborators, and, of course, to the viewers who chose to spend Sunday nights in Bon Temps with us."
Watch:
Carrie Preston Talks "True Blood" Ending