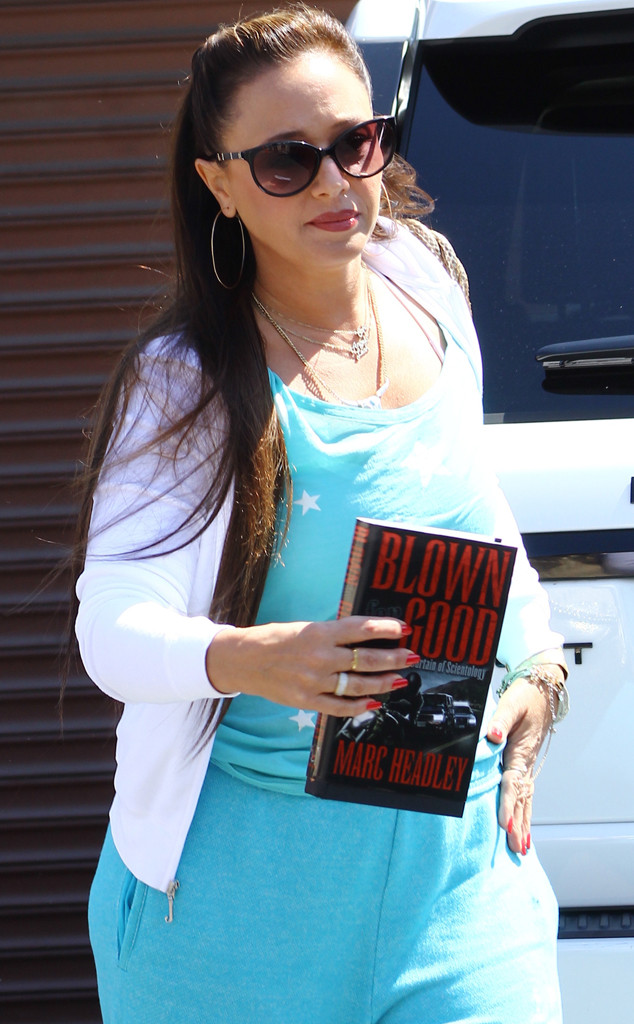 Cathy Gibson, PacificCoastNews.com
Sometimes, a picture really is worth a thousand words.
In yet another testament of to her severed ties with Scientology, Leah Remini was snapped arriving at rehearsal for Dancing With the Stars in Los Angeles with Marc Headley's famous tell-all on Scientology in hand.
The 43-year-old actress could clearly be seen carrying the book Blown for Good Behind the Iron Curtain of Scientology, which is well known for portraying the controversial religion in a less than positive light. 
Remini wore a teal shirt with stars on the front, matching sweats and a white Juicy Couture zip-up. She added a pair of oversize shades to her workout wear in addition to trendy gold jewelry, which she sported while seemingly putting her current choice of reading on full display for the cameras.
In July, it was reported that the former King of Queens star had left the Church of Scientology. A New York Post source claimed that the actress had been subjected to years of "interrogations" and "thought modification," along with policies preventing members to question the leadership of David Miscavige.
After her decision to part with the Church became public, Remini told People magazine, "I believe that people should be able to question things. I believe that people should value family, and value friendships, and hold those things sacrosanct. That for me, that's what I'm about. It wouldn't matter what it was, simply no one is going to tell me how I need to think, no one is going to tell me who I can, and cannot, talk to."
She added, "I'm not about to shut up."
Shortly after, she filed a missing person's report for Shelly Miscavige, the wife of Scientology leader David Miscavige, which the Church slammed as "harassment." Per the LAPD, the case was closed just hours later Remini's initial filing.
Leah, who is set to appear on season 17 of Dancing With the Stars, also recently spoke with Ellen DeGeneres, admitting her defection from the religion did come at a cost.
"We lost friends who can no longer talk to us who are still in the organization," Remini admitted on the season premiere of Ellen in her first TV interview since leaving the church. 
"But we have other friends, who are not in the church, who have stood by us and that's all we can ask for," Remini added.
She later issued a statement to People: "I wish to share my sincere and heartfelt appreciation for the overwhelming positive response I have received from the media, my colleagues, and from fans around the world. I am truly grateful and thankful for all your support."
Remini isn't the first celeb to jump the Scientology ship. Others include Nicole Kidman and writer-director Paul Haggis.