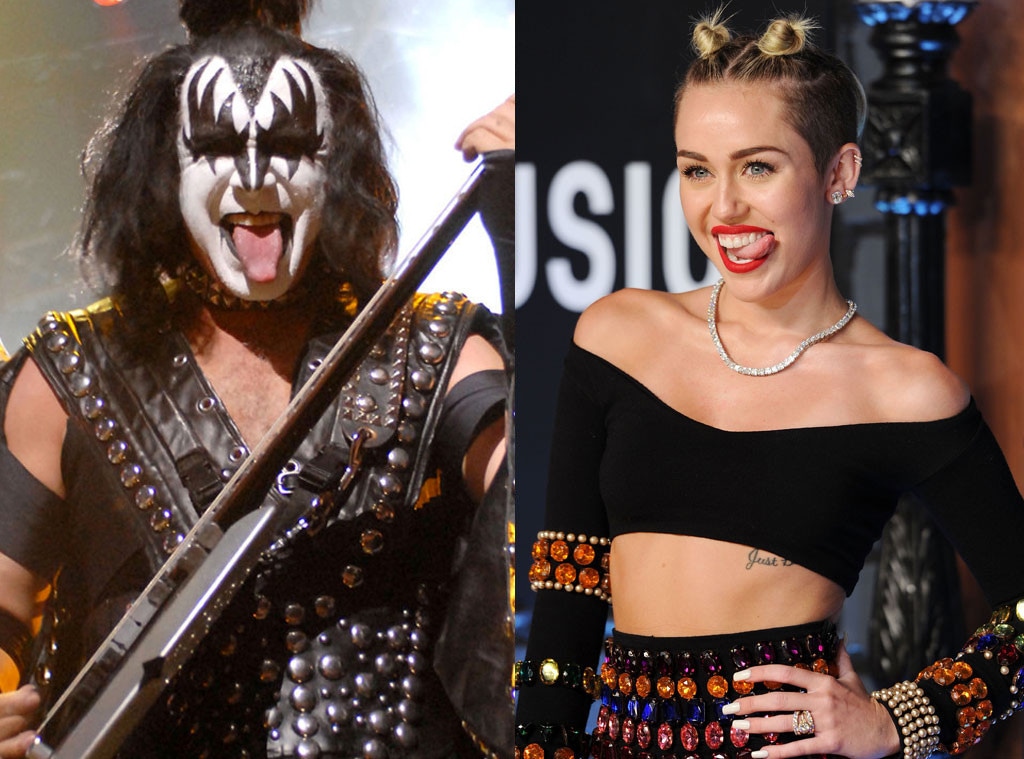 Getty Images
It seems that everyone has an opinion on Miley Cyrus' controversial performance at the 2013 MTV Video Music Awards.
But when it comes to her tongue-wagging show, no one is a more qualified to judge than rock star Gene Simmons.
"I don't understand why people got so upset," the KISS artist told Rolling Stone of Cyrus' eyebrow-raising performance, which saw the 20-year-old singer twerking with teddy bears, stripping down to a flesh-covered bra and panties, making raunchy gestures with a large foam finger and grinding up against 36-year-old Robin Thicke—actions for which the FCC received a number of heated complaints.
"Whether you stick out your tongue or shake your tushy, all the other girls are doing the same thing," Simmons continued. "Any girl whose name ends with an A—Madonna, Shakira, Rihanna, Lady Gaga, all these girls who sing pop songs through backing tracks like it's karaoke and gyrate all over the stage—if they can do it, why can't Miley? Either condemn the whole lot of them or leave her alone."
Solid point, which, in fact, is quite similar to Miley's previous assessment of her performance. 
"I don't pay attention to the negative because I've seen this play out so many times," she said to MTV News of the VMA backlash. "How many times have we seen this play out in pop music? Madonna's done it. Britney's done it. Every VMA performance, that's what you're looking for; you're wanting to make history."
But while Cyrus may have successfully gotten everyone talking, Simmons is somewhat critical of the pop star's tongue-flashing skills.
"It was okay," he said when asked to rate Miley's tongue-wagging show. "But that's a girl's version. It's like girls' basketball. It's as good as girls can get at basketball. But you can't play with the guys."
Any comeback, Miles?