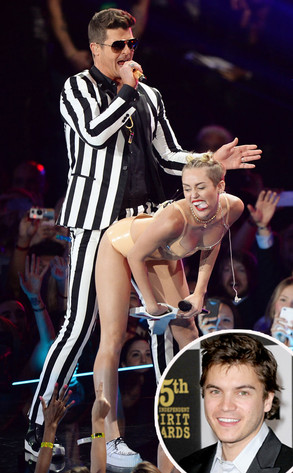 Andrew H. Walker/Jason Merritt/Getty Images
Who would have guessed that Emile Hirsch was a big Miley Cyrus fan?!
The 28-year-old actor says he's a huge fan of her hit summer song "We Can't Stop." "Yeah!" he told us last night at the Prisoners premiere in Beverly Hills. "It's a good song. It's a good song."
Hirsch couldn't pick just one reason why he loves the Miley jam. "It's hard to define what makes a song catchy or [what makes] people listen to it a bunch of times," he continued.
But can the Savages star twerk like Cyrus? "I can't twerk," he said. "I don't think I'd be very good at twerking. I'll stick to watching. That's what more fun to me."