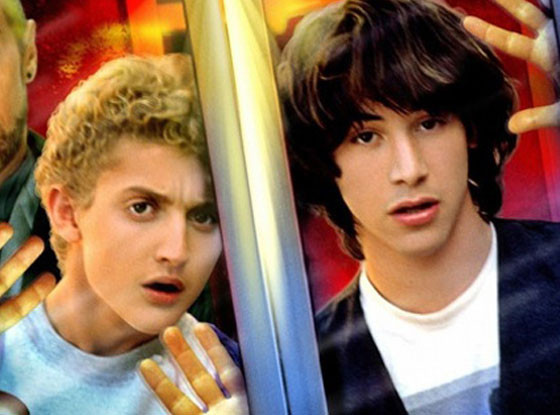 Orion Pictures
Keanu Reeves is ready for another excellent adventure.
The actor tells me he'd love to make a third Bill & Ted movie.
"The writers are trying" to get the green light, Reeves told me at the Toronto International Film Festival while promoting his directorial debut, Man of Tai Chi, at the Azure Restaurant & Bar. "I would do [it]. I think it would be insane. It would be insane…There is a story to tell."
And that story would be?
"Did they write the song that saved the world?" Reeves said, referring to the end of Bill & Ted's Bogus Journey, a 1991 sequel to Bill & Ted's Excellent Adventure. "What would be the pressure to write that song?"
Here's hoping it does get made because Reeves revealed to MTV News, "There's all sorts of stuff and it just can't—it's just—there's darkness out there that's keeping it from happening... It's that part of the story where it's looking grim. It's the dark period of the idea!"
In not so grim news, Reeves said he had been offered directing jobs in the past but didn't decide to take the plunge until Man of Tai Chi, an action thriller he developed with Matrix stuntman Tiger Hu Chen, who stars in the movie as a young tai chi student lured into competing in a deadly underground fight club led by a mysterious tycoon (Reeves).
He wants to direct again. "I hope to find another story to tell," Reeves said. "I really enjoyed directing and all parts of it. I hope I get that chance again."