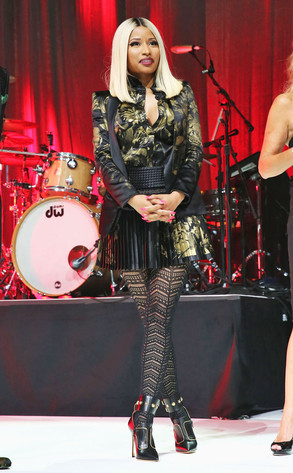 Neilson Barnard/Getty Images for BMI
Not everyone gets starry-eyed listening to Nicki Minaj's megahit, "Starships."
Just ask EDM artist Clive Tanaka, who's suing the 30-year-old hip-hopster claiming her song patently swiped elements from his instrumental ditty titled "Neu Chicago."
Per the lawsuit filed Tuesday in Illinois District Court by his company Tanaka Light Industries and a copy of which was obtained by E! News, Tanaka claims he created his original composition and recorded it sometime between March 2009 and March 2010, registering it with the copyright office in 2013.
Since publishing it in March 2010, "Neu Chicago" has since been distributed through such Internet sites as iTunes, Amazon and other services as well as been used in a TV clothing ad in Sweden among other licensing deals.