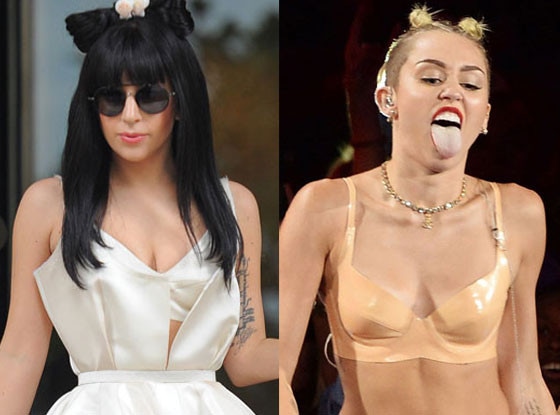 TGB/Splash News, Theo Wargo/WireImage
Strength in solidarity! Two weeks after Miley Cyrus made headlines for her raunchy and over-the-top MTV Video Music Awards performance, one of the night's other showstoppers—Lady Gaga—came to her defense during the Sept. 11 episode of Bravo's Watch What Happens Live.
When host Andy Cohen asked the 27-year-old "Applause" singer about Cyrus' provocative "We Can't Stop/Blurred Lines" medley, she replied, "I mean, I just think everybody need to lighten up and leave her alone. Because it's pop music. Everybody's entitled to their own artistic expression, and if you have a problem with it, just change the channel."
Gaga—no stranger to controversy herself—argued that Cyrus' persecution in the media and online has been unfair. "I don't understand the incessant need to constantly go on and on about hating things all the time because, what, she's 20 years old? And if anything, I give her props," the native New Yorker said. "You know, she's growing up in front of the entire world and maybe she's not so happy with stuff she did in her career when she was younger and she wants to be free, so let her do what she wants."
During the Watch What Happens Live after show, Gaga also cleared up rumors about her alleged feud with another pop star. "I'm a very big fan of Christina Aguilera," she told Cohen. "From the very beginning of when my career started, there was all this controversy about the two of us. I always felt that it was very unfair."
She continued, "All I know is that people were talking about Christina Aguilera and Lady Gaga in the same sentence, and I was nobody! I just think it's very unfair of anyone to pit another woman against another woman, especially in the space of music when we are all just trying to be taken seriously."
"Christina is an incredible vocalist and an incredible artist," she added. "From me to her, I'm so sorry for anything that anyone ever said to her because of my existence. And I hope that she never felt any way about it, because when I was 15, I was singing 'I Turn to You' at the top of my lungs trying to hit all her notes. So she was an inspiration to me to have a wider vocal range, and I just think it's all total nonsense the way that they do that."
Gotta love girls who stick together!