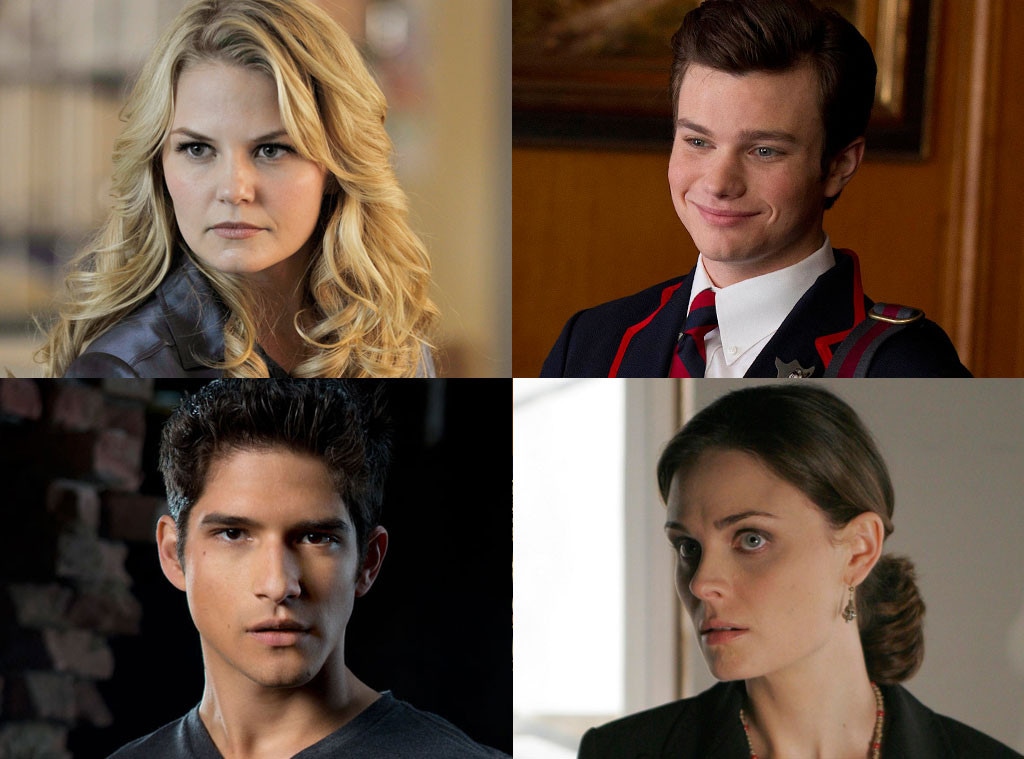 ABC, MTV, FOX
The fall TV season is dark and full of new characters!
In today's Spoiler Chat, we're handing out spoilers on the return of your favorite series like it's Halloween candy. Fret not, we're not giving you raisins or pennies (Worst. Neighbors.Ever.); we're serving up scoop on two new tortured souls Once Upon a Time fans will be meeting, as well as the new monsters heading to Beacon Hills on Teen Wolf. Plus, we've also got details on Glee's tribute to Cory Monteith, Bones' wedding (Yay!) and Arrow's dark, dark turn.
Creed in Rockford, Ill.: Any new spoilers on The Following?
The ice pick in the eye death returneth in season two. Remember when that happened in the pilot? Ahhh, memories.
Aimee H.: Can't wait to see how Glee honors Cory Monteith. Have you talked to any more castmembers about it?
As a matter of fact, we just chatted with Dot Marie Jones about the episode (her first appearance in the new season), that will pay tribute to Cory and his character Finn. And just like all the other Glee actors we've talked to, Jones said it was a struggle to get through it. "First of all, it took me two days to read [the script] because I couldn't stop crying, from personal stuff and from the stuff that was written," she tells us. "It's one of the most beautifully written scripts I've ever read. Ryan [Murphy] and Brad [Falchuk] and Ian [Brennan] have written something that is just unbelievable." When asked how she thinks the fans will react to the episode, Jones promises that everyone will love the tribute. "There's no way they can't," she says.
Jessica: Excited for the Kitsune on Teen Wolf, but can we expect to meet other supernatural creatures?
Possibly, but they will all have ties to the Kitsune, a were-fox known for trickery, according to boss Jeff Davis. "You may see others, but it revolves around the Kitsune myth," he dishes. "You'll see, but we have some great new bad guys this season that we're excited about."
Thomas: Once Upon a Time scoop?
It looks like Peter Pan will have more than just Lost Boys on his payroll as the ABC hit is currently looking to fill the roles of Glasses and Keychain. Yes, those are their names. Both Brits in their late 20s, both have been hardened by their years of servitude. While Glasses is sophisticated, erudite and focused, Keychain is a wild card who lost his innocence a long  time ago.
Liam: Hit me with an Arrow… scoop that is.
"I feel like it's season one times ten," Katie Cassidy teases of season two. "I feel like every episode has been so big and I literally did not think when we shot the first season it would get bigger I would just figure it would get smaller. Literally they have taken season two and just have expanded it bigger and it's just amazing! Expect the unexpected and just know it's darker." So not only is she gorgeous, but Cassidy knows how to tease her show. Sometimes God gives with two hands, y'all.
Natalie: Give me anything and everything you've got on the Bones wedding!
We'll ignore the fact that you forgot to say please and give you the scoop anyways. Why? Because we're classy freakin' ladies, that's why! We recently chatted with the so-handsome-it-hurts David Boreanaz and he says the Bones wedding will definitely meet fans' expectations. "We shot some scenes today with Parker and he's going to be back and I know that all the fans are going to be excited about that. Hank Booth is back and we did a funny scene today with chili and eggs and tuxedoes being stained and stuff like that." The actor continues, "It's going to be exciting. I do know that things are going to burn down and Cyndi Lauper is going to be there and it's going to be a fun time."
James: My Nurse Jackie experts! The finale broke my heart when Jackie took that pill, so please tell me that she's sober again in the new season!!
Er, do you want us to tell you she's sober or do you want us to tell you the truth? Because the truth is that the little pill Jackie took before her one-year sober party at NA will not be the last. In fact, it's safe to say she's back in full using swing when the show returns for season six. But on the bright side, a new romance that we totally support is heating up between Zoey and [spoiler]!
Shannon: Loved loved loved the season premiere of The Mindy Project! Any scoop on what's next?
Prepare to get to know Tamra, the new  receptionist, much better in season two as we'll be meeting her hot-tempered boyfriend Ray Ron, who ends up coming to the office in a no-good-very-bad mood when he hears his lady has been spending time with a certain roguish doc.
Want the latest TV scoop? We got it! Tweet your Spoiler Chat questions to @KristinDSantos or email them to tvdiva@eonline.com!