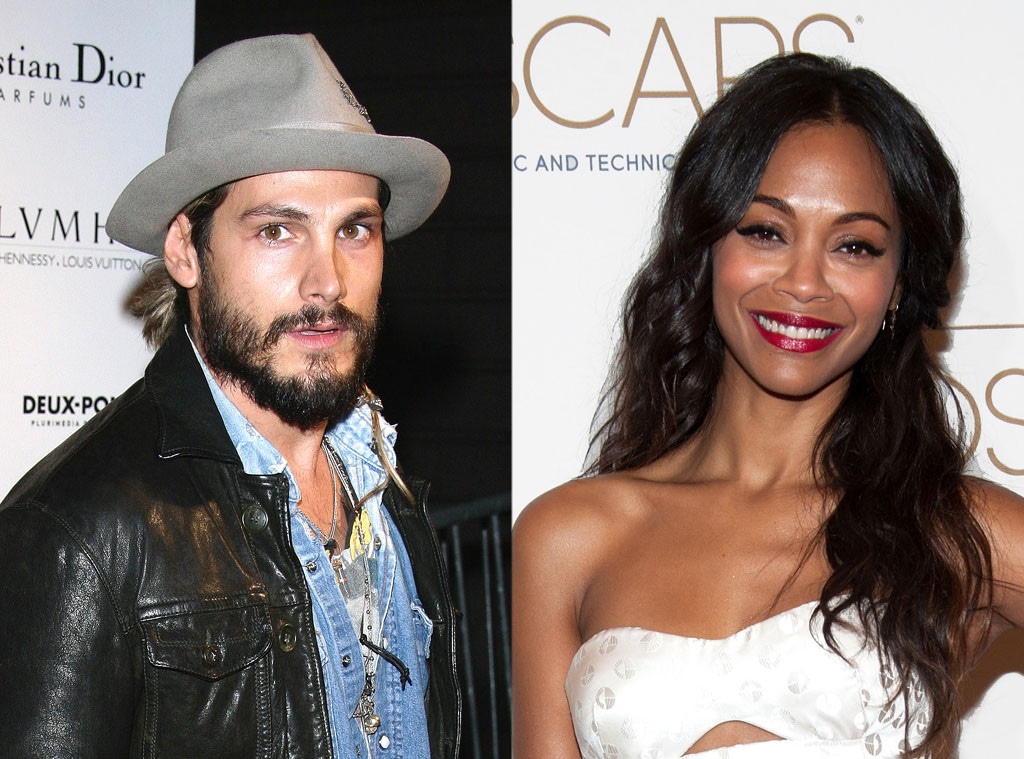 Dimitrios Kambouris/WireImage, Francois Durand/Getty Images
Congratulations are in order for Zoe Saldana, who is the latest celeb to say "I Do"! 
E! News confirms the 35-year-old actress and beau Marco Perego secretly wed in July outside of London.
Earlier this month, the couple was snapped wearing gold bands on their ring fingers, which initially sparked the top-secret wedding buzz.
So who's the stud who stole Saldana's heart? Here are five things to know about Marco Perego:
Candidwire, PacificCoastNews.com
1. He's Not The Typical Hollywood Type: While Perego may be married to one of Tinseltown's hottest stars, the Italian artist comes from humble beginnings. He told the New York Observer in 2007 that his mother was a stay-at-home mom and his dad was a waiter. Before becoming an artist, the 34-year-old hottie was a professional soccer player until a leg injury ended his sports career. He then worked as a busboy before he hit it big as an artist. His first solo art show occurred six years ago in NYC and included paintings that sold for as much as $30,000. Perfect for Saldana, who previously said "been there, done that, got the T-shirt," while discussing her dating history of coupling up with actors.
2. He's a Stand-Up Guy: Back when Zoe and Marco were first romantically linked, a source told E! News Perego is a "really good guy" who has "a really good energy." Despite their seemingly short courtship, the twosome has known each other for some time, although they didn't begin a romantic relationship until this spring. "Zoe is super-happy right now," a source told E! News of the Avatar star in May. "She's in a really happy place." And it seems like life has only gotten better for the adorable pair!
3. He's Zoe's Type: The Italian hunk is clearly easy on the eyes, and turns out, Marco is well-known for his handsome looks. He's nicknamed Pirate Perego for his long hair and his hottie Johnny Depp appearance, which, as it turns out, is ideal for Saldana. When previously asked what type of man she's looking for, the beauty confessed, "A badass renegade! A pirate! A pirate who can cry. Oh, my God!" Seriously, could these two be any more perfect for each other?!
4. He Got His Big Break Through a Friendly Connection: In the fall of 2002, Perego abandoned soccer and moved to New York to pursue his dream of becoming an artist. "I was living Spanish Harlem without money and I was living on 104th Street," the sexy stud told the New York Observer of his early beginnings in the art world. He finally convinced a friend's sister, Gilda Moratti (who hails from the famed Moratti family) to come see his art. "One day what happened was, I come to her and I say, 'Listen, look at my work, tell me what you think. If it is a joke I will try to find something else,'" he recalled. Moratti bought a painting, and Perego has since gone on to gain international fame.
5. He Appreciates His Success: Despite Perego's prominence, there's nothing pretentious about the star, who hasn't abandoned his humble roots since making it big in the art world. "I never forget where I'm from," he previously admitted. "I go the same. I am the same kid. I love to sit down and be like a voyeur. I love to watch people, and feel like a pirate." And he even has the same four best friends. "My friends are the best pirates in the world. I promise," he said.
Sounds like this sexy pirate has met his perfect match.