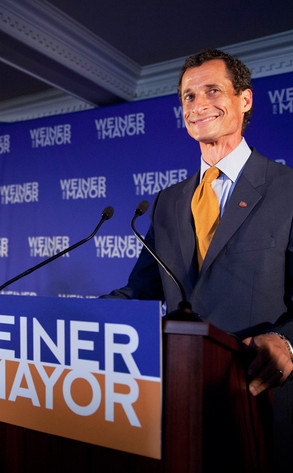 AP Photo/Jin Lee
Anthony Weiner got the last word on the matter of his failed New York City mayoral campaign and unfortunately, like his sexting shots, it wasn't a flattering one.
The disgraced ex-congressman was taped flipping the bird to a curbside reporter as he left his primary election night party. This after a disastrous last place finish, having earning just 5 percent of the democratic vote as surging progressive candidate Bill de Blasio topped all rivals.
The rude gesture was captured by a slew of journalists who subsequently tweeted about it and marks a sad epithet to Weiner's mayoral ambitions.
"We had the best ideas," the grim-faced politician told supporters in his concession speech at Manhattan's Connolly's Pub and Restaurant. "Sadly, I was the imperfect messenger."
Ya think?