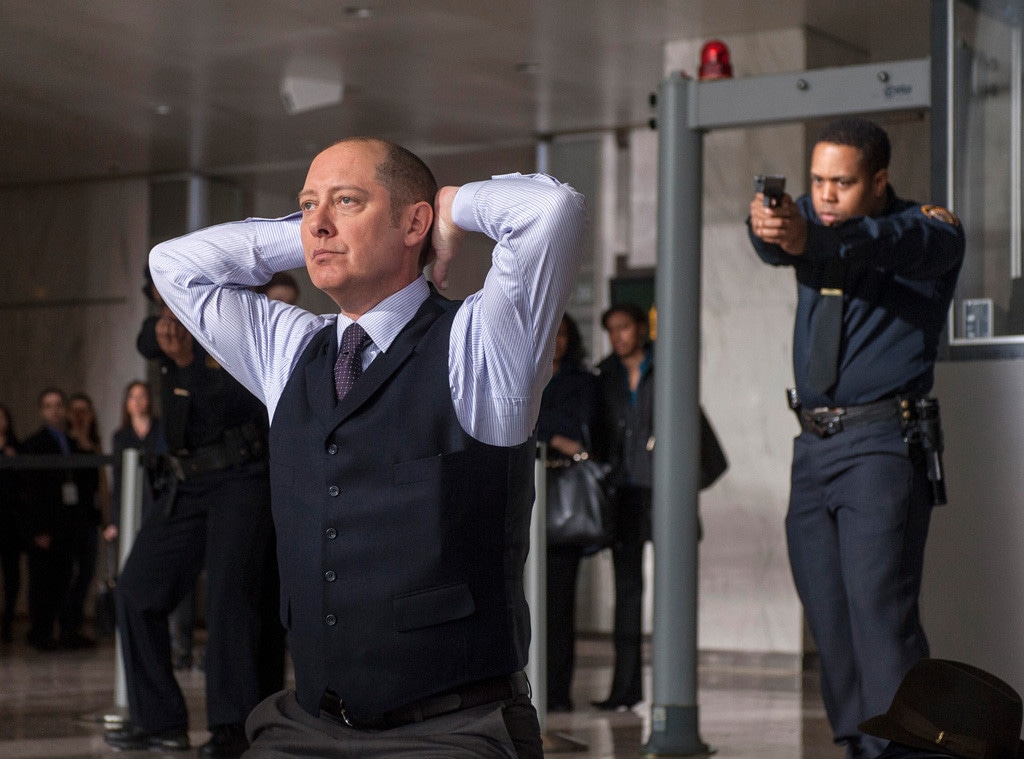 NBC
James Spader is so good at being bad (and creepy and intimidating), that we'd follow him straight into the gates of TV hell. NBC's new drama The Blacklist doesn't take us quite that far, but almost.
The series revolves around Raymond "Red" Reddington (Spader), one of the FBI's most wanted fugitives, and his quest to knock out certain criminals and terrorists on his "Blacklist." And after seeing the pilot and three-time Emmy winner Spader's performance, we are more than willing to put this show on our "must watch list."
The Blacklist (NBC)
Premieres: Monday, Sept. 23, 10 p.m.
Time-Slot Competition: Castle (ABC), Hostages (CBS), 
Cast: James Spader, Megan Boone, Harry Lennix, Diego Klattenhoff and Ryan Eggold
Status: We've seen the pilot episode
Silence of the Spader: Red, a former government agent, surrenders himself to the FBI seemingly out of the blue, and he tells them that he wants to help them bring down the worst of the worst, even people that the FBI don't know about. But there's a catch (isn't there always?), Red will only speak to rookie FBI profiler Elizabeth Keen (Boone), and no one, not even Elizabeth, knows why she's the "chosen one." It comes off as a little Silence of the Lambs-esque, but not so much that it comes off as a generic rip-off. In fact, that's the only similarity you'll notice. Also, Lambs is so wonderful that taking pages from its playbook isn't the worst thing in the world. Plus, the unknown story behind Red's choice to work with Keen is already driving us crazy. And Liz's hubby Tom (Eggold) is obviously harboring something secret, too. We have some theories, and when you start analyzing clues in a TV, you know you're already roped in.
Lethal Weapon: Red is of course successful in helping the FBI catch a wanted terrorist, so now he's not only the government's new secret weapon, but he's also calling the shots. And even after 42 minutes of never once taking our eyes off Spader's performance (it's that entertaining), we still have no clue which side Red is really on. And that makes him the most dangerous asset of them all.
Cliffhanger and Casualties: The pilot has a twist-ending that will definitely leave you wanting episode two like, yesterday. While NBC's other dark drama series Hannibal definitely has a leg up when it comes to gore and twisted murder scenes, Blacklist has its own fair share of blood, if you're into that.
Solid Casting: Spader was made to play this part. That much we probably made clear by now. But Boone, Lennix and Homeland alum Klattenhoff all hold their own against Spader, which is no easy feat.
Verdict: Watch. James Spader is perfection and we can't wait to see what Red is up to next.
Take our poll below and tell us if you'll be watching, DVR-ing or passing on The Blacklist. And to hear more about NBC's new drama series, check out our exclusive interviews with the cast!
Watch:
James Spader Thrives on "The Blacklist"