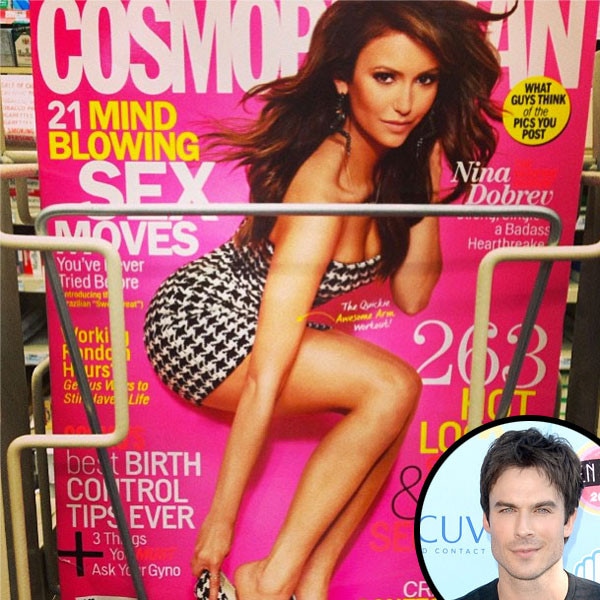 Instagram; Jason Merritt/Getty Images
Friendly exes alert!
Ian Somerhalder took to Twitter today to share his thoughts on ex-girlfriend Nina Dobrev's Cosmopolitan cover, and it's safe to say the Vampire Diaries star is one stand-up guy.
"In a store this morning-who do I see? The one&only @ninadobrev," the 34-year-old actor captioned an Instagram shot of the brunette beauty's Cosmo cover. "These things are almost gone so If you haven't gotten this magazine off of a shelf-get one. One word: Stunning... Congrats Nina!" 
Somerhalder signed the sweet note, "Xo Ian."
Ben Dome/Nathanael Jones/PacificCoastNews.com
"Thank you Smouldy :)))," Dobrev responded, showing her appreciate for Ian's kind message.
The CW costars broke up in May after more than three years of dating with a source telling E! News the former lovebirds are "still friends" post-split. 
"There's no bad blood between them," the source insisted when the pair called it quits. "There was no other person involved or any big fight."
The insider added the twosome—who met in 2009 on the set of their hit CW series—ultimately decided to pull the plug on their long-term relationship after realizing the 24-year-old actress wasn't ready to settle down as much as the 34-year-old heartthrob desired.
"They still talk daily," the source said. "This wasn't something out of the blue."
The September Cosmo cover star also opened up about her friendship with pal Julianne Hough (who split with Ryan Seacrest in March) inside the mag, insisting their respective breakups are not what brought the BFFs together.
"That's not what our friendship is about. Unfortunately, that's how it's perceived, but there's more to us," she explained. "People aren't defined by their relationships. The whole point is being true to yourself and not losing yourself in relationships, whether romances or friendships."
As for what the gorgeous star is currently looking for in a man?
"You either have chemistry or you don't, but a lot of what attracts me is a guy's mind and humor and talent," she said. "I need to get to know all those things before I fall for someone. I'm not a one-night-stand kind of girl. I'm a relationship girl."
She added: "I'm progressive in some ways, old-fashioned in others. I like it when guys hold the door open and are sweet and thoughtful. The guys on our show are really good at that. A man in a suit looking put-together and dapper is very attractive, but I also kind of like the I-just-rolled-out-of-bed, a-little-bit-of-scruff, effortless, not-trying-hard-but-still-sexy guy. If a guy spends more time looking in the mirror than I do, that's a problem!"