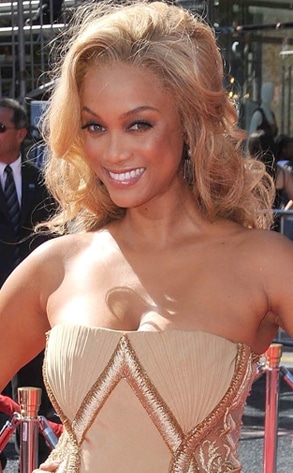 Jeff Frank/ZUMApress.com
You might say Tyra Banks is dressed to impress—or rather, she's offering up some pretty awesome impressions.
The America's Next Top Model mastermind paid tribute to her fellow supermodels Cindy Crawford, Kate Moss and newcomer Cara Delevigne by re-creating creative poses of each catwalker in a new photoshoot in honor of New York Fashion Week.
"I've put my own spin on #NYFW w/a photo tribute to some of the fiercest #SuperModels ever. Unretouched. Real. Raw," she tweeted.
No, this wasn't a Top Model challenge.
The 39-year-old Banks transformed herself for 15 black and white photographs for photographer Udo Spreitzenbarth's exhibition, Tyra Banks Presents: 15.
The aim, according to the photog's website, is to capture "the likeness of her colleagues to address the powerful nature of these well-known symbols, while reminding them that 'imitation is the sincerely form of flattery."
On mimicking the waif-thin Moss, Banks wrote:
But perhaps the author, actress and erstwhile talk show host's favorite was the 47-year-old Crawford.
Other fashion icons Banks emulate include Linda Evangelista, Claudia Schiffer, Kate Upton, Grace Jones, Brooke Shields, Lauren Hutton, Twiggy, Carmen Dell-Orefice, Karlie Kloss, Jerry Hall and Iman. Tyra also posed as herself at age 15.
Now that's fierce. The exhibit opens on Sept. 8 at Jack Studios in New York City.