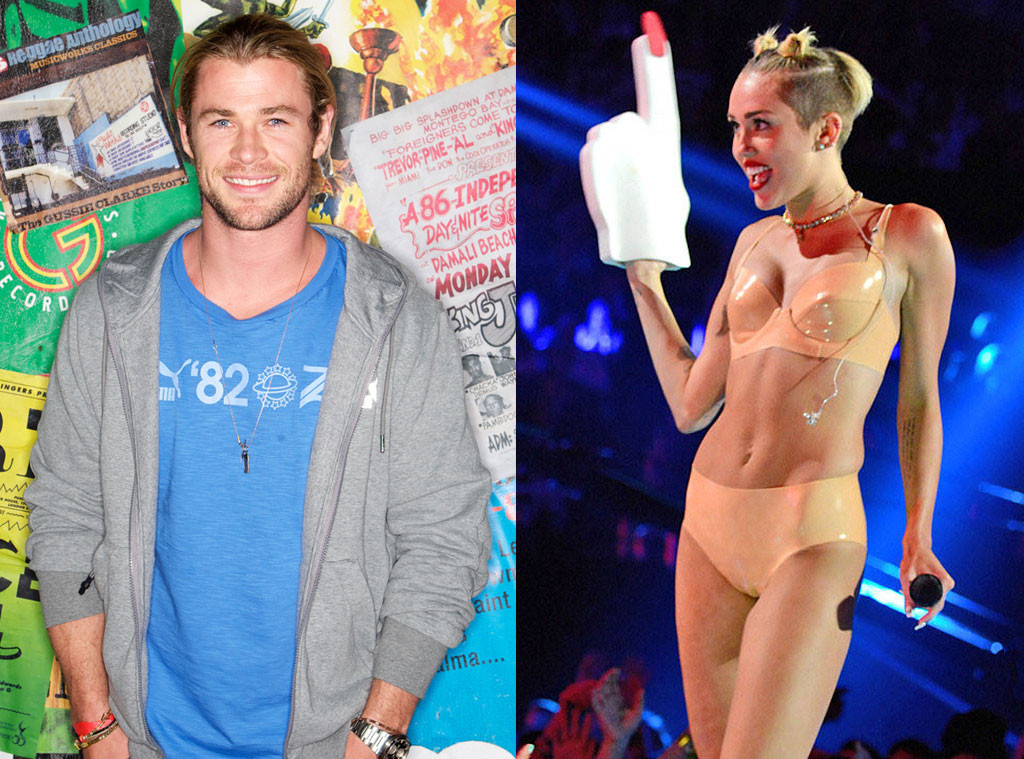 Paul Hampartsoumian/Neilson Barnard/Getty Images for MTV
Miley Cyrus could be Chris Hemsworth's sister-in-law some day, but that doesn't mean the Thor star is in any rush to watch her controversial MTV VMAs performance.
"I haven't seen it," Hemsworth told me earlier today while promoting his new Ron Howard-directed drama Rush at the Toronto Film Festival.
He really hasn't seen Cyrus' twerk-filled act with the now infamous foam finger and the too-close-for-comfort Robin Thicke gyrations?
"I've been in Kuala Lumpur two weeks ago, then Jakarta, then Hong Kong [and] Toronto now," Hemsworth explained. "The breaks I get, they're with my family. There's not much surfing the 'net at the moment."
Especially when he wants to be with his and wife Elsa Pataky's 16-month-old daughter India Rose.
"She's been walking for a while now but she's getting better and better at it," the proud papa gushed. "She's got kinda that drunken walk thing. She has her hand up in the air because she's used to holding your hand even when it's not there now…She's fantastic. She's great."
Aww.
Hemsworth will soon reunite with Howard to make In the Heart of the Sea, a drama about the shipwreck story that inspired Herman Melville's Moby Dick.
Downtime for the hunky Aussie will come around Christmas. But, then it's back to work when cameras start rolling in February or early March on The Avengers sequel, The Avengers: Age of Ultron.
For more Toronto scoop, keep coming back to E! Online and check out E! News tomorrow at 7 p.m. and 11:30 p.m.