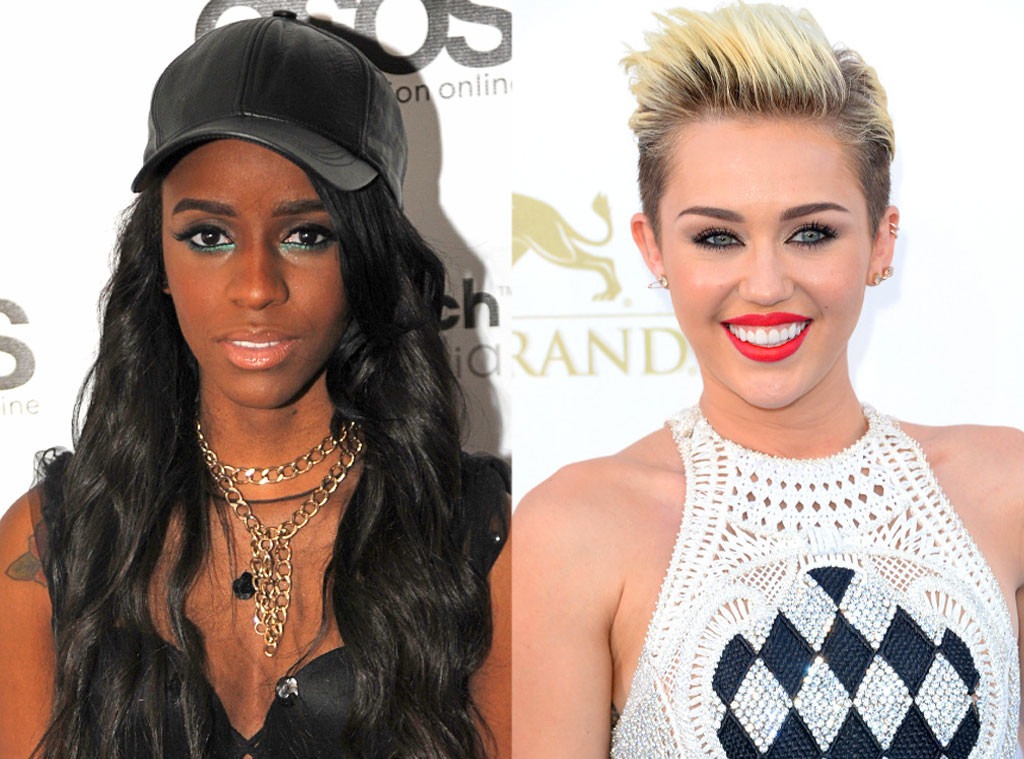 Seth Browarnik/startraksphoto.com; WireImage
Rapper Angel Haze is jumping to Miley Cyrus' defense.
After the "We Can't Stop" singer was on the receiving end of rampant criticism following her controversial 2013 MTV VMA performance, the "Hell Could Freeze" rapper has taken to Twitter to fire off a series of heated tweets aimed at media outlets that continue to ask the performer for her opinion on Cyrus' scandalous show.
Namely, Angel took issue with The Washington Post over a opinion piece penned by Richard Cohen in which the author suggested Cyrus' performance fuels a culture of misogyny that he blames for the Steubenville rape case.
"Recently been asked about @MileyCyrus way too much," the rapper began her Twitter rant. "Was particularly perturbed by the whole washington post thing. Let me just vocalize how utterly f--king stupid I think it is for a national news publication to post that her dancing is why things like Steubenville happen," she added.
"That is terrible journalism," she continued. "Slut shaming, and complete and total idiocy all at once. If @MileyCyrus wants to dance, let her. A female dancing doesn't mean she's 'asking to be raped.' Quite frankly, if she is not doing it on you, it is not for you."
But she didn't stop there.
"Women are allowed to not feel enslaved by any opinion that suggests that the display of any sort of sexuality is wrong," she wrote. "Die, you are what's wrong with the world, it's 2013."
She concluded: "You should know by now that the word 'no' does not have various meanings and is not to be taken as anything but no," adding, "I just don't get it."
While Cyrus has yet to respond to Angel's tweets (she hates Twitter rants, after all), the singer did recently address her provocative performance and defended her duet with Robin Thicke.
"Me and Robin, the whole time said, 'You know we're about to make history right now,'" Miley said in an interview with MTV. "What's amazing is I think now, we're three days later, and people are still talking about it."
"I don't pay attention to the negative because I've seen this play out so many times," the twerking queen continued. "How many times have we seen this play out in pop music? Madonna's done it. Britney's done it. Every VMA performance, that's what you're looking for; you're wanting to make history."
Can't argue with the fact girl made quite the impression.