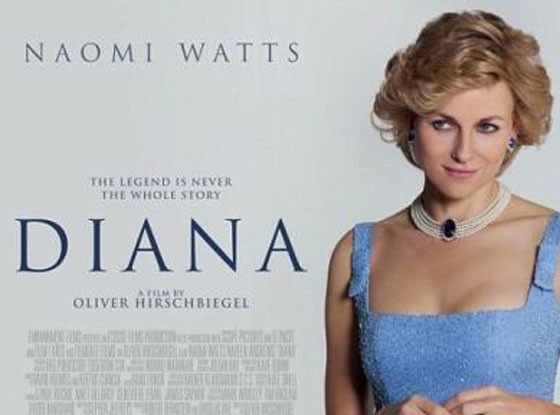 If the early buzz is any indication, Diana is a dud.
The first reviews for Downfall director Oliver Hirschbiegel's biopic on the late royal are in and by most accounts, Naomi Watts makes a valiant effort but ultimately misses the mark in her portrayal of Princess Diana, hampered by a weak script and clumsy dialogue.
Here's a quick roundup of what the critics are saying now that Diana opened in theaters in the U.K. on Friday:
• "Watts makes a decent fist of playing Diana—she wears the clothes well (especially the glamorous ones) and the hair looks first-rate. But though she replicates Diana's body language attentively (notably in the re-creation of her famous grilling by Martin Bashir, there's something missing: the Princess's wounded, doe-eyed gaze," wrote The Telegraph, which labeled the film a "leaden account" of the Princess of Wales' two-year romance with Dr. Hasnat Khan.
• "Watching her here feels almost like an optical illusion, because you simply don't believe that this actress can be giving this performance—it's stilted, overly mannered and bereft of anything human. In trying (understandably) to portray Diana accurately and reverentially, Watts has neglected to portray a person. Not that the blame for this falls squarely on Watts; it's [writer Stephen] Jeffreys' script that fails to give her a soul," panned Digital Spy which also slammed Diana as "too incompetent even to qualify as hagiography, devoid of insight and—unforgivably—curiosity about its subject. "
• "Watts' elaborate impression of Diana has the upward look, the doe-eyed gaze of seduction and reproach and she can do the estuary-posh voice. [But] there is nothing to show the grown-up wit and charm which entranced many," opined The Guardian, calling the flick a "tabloid fantasy" that's more TV movie soap opera than cinematic exploration.
• On the other hand,the London Evening Standard gave the 44-year-old actress's turn a big thumbs up, calling Diana "a very watchable film—and certainly not the turkey some had dismissed it as even before its release."
"The Oscar-nominated Watts gives a brilliant, passionate and believable performance as the tragic Diana. For me, the British/Australian actress captures the vulnerability and complexity of the late Princess, in her almost manic, desperate search for love," praised the paper. "If you do as the director asks, and check your baggage in before watching it – ignore the rows over authenticity and some inaccuracies—and see it for what it is, you will not be disappointed."
• "Although Diana veers stickily towards hagiography, it does still, to its credit, touch on some of Diana's trickier aspects—her manipulativeness, neediness, and complicated relationship with the press. What it doesn't do, however, is wrap them around a framework that is in any way compelling. Fundamentally, Diana is thin at its core," offered Screendaily.com, though the website did hail Watts for a "brave performance."
Diana is slated for release in the U.S. on Nov. 1.