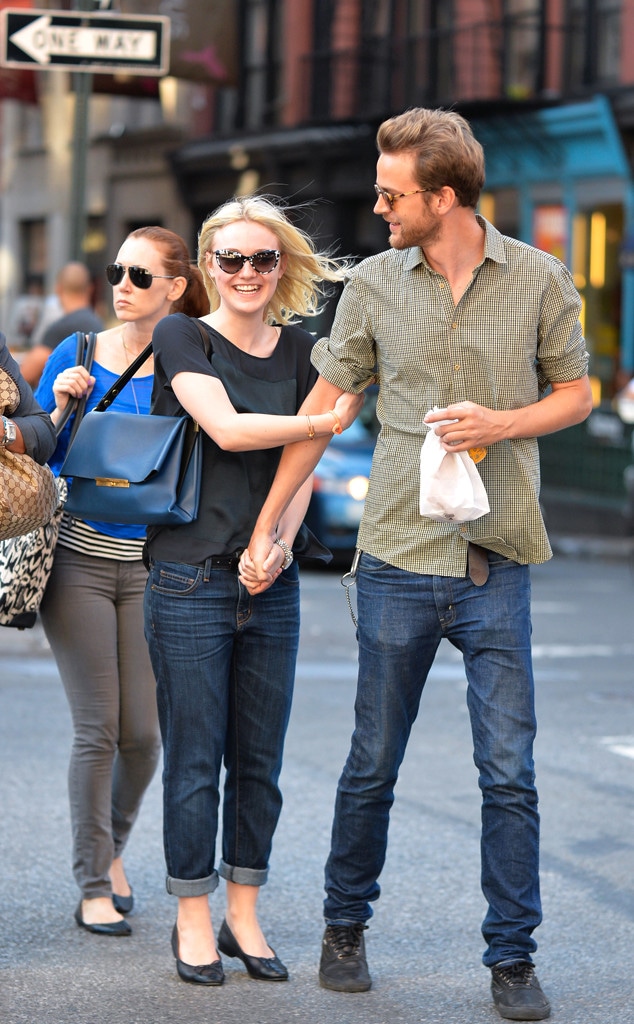 Luca Chelsea/Splash News
Dakota Fanning has found a special someone.
The 19-year-old actress was spotted with her 32-year-old boyfriend Jamie Strachan in New York City, and instantly fans began to wonder about this strikingly handsome fella that captured the blond beauty's heart.
Who exactly is this U.K. model? Well, here are six things to know about Fanning's new love interest.
1. Low-Key Relationship: Although we're seeing the duo together now, Fanning and Strachan have been linked for some time now. A source tells E! News that the pair have been dating for a few months.
2. Jamie's More Than a Pretty Face: Sure, he's nice to look at, but Dakota's been around plenty of handsome men. So what's different about this guy? Our source says that Strachan is "very shy and incredibly nice and sweet."
Anthony J. Causi/Splash News
3. First Love: He may be the one of first guys Dakota's dated—gasp! "I don't really date," Fanning told the Glamour in March. "I have a weird vision of relationships because my parents have known each other since second grade, and they got married right out of college. I've always thought that's what it's supposed to be like, and if it's not, then I don't want to waste my time on it.
"Even when I was 14, I was like, 'I'm not gonna marry this person. What's the point of doing it?' It's not me being naive. I just know what it's supposed to be like. And I think until I feel that, I cannot be bothered."
4. He's Big in the Modeling Industry: He may not grace the big screen like his girlfriend, but Strachan is pretty well known in the model world. In the 11 years he's worked as a fashion model, Strachan has posed for designers such as Gucci, Calvin Klein, Hugo Boss and Michael Kors.
5. He's Quite the Photographer: Jamie is just as talented behind the camera as he is in front of it. Strachan has an Instagram account, but you won't find any selfies from the hunk. Instead, his account is filled with a variety of shots taken by him. And they're pretty awesome.
6. He Dated an Angel: Strachan's last longterm relationship was with Victoria's Secret angel Behati Prinsloo, who you might recall recently got engaged to Adam Levine.
What do you think of this new couple? Sound off in the comments!