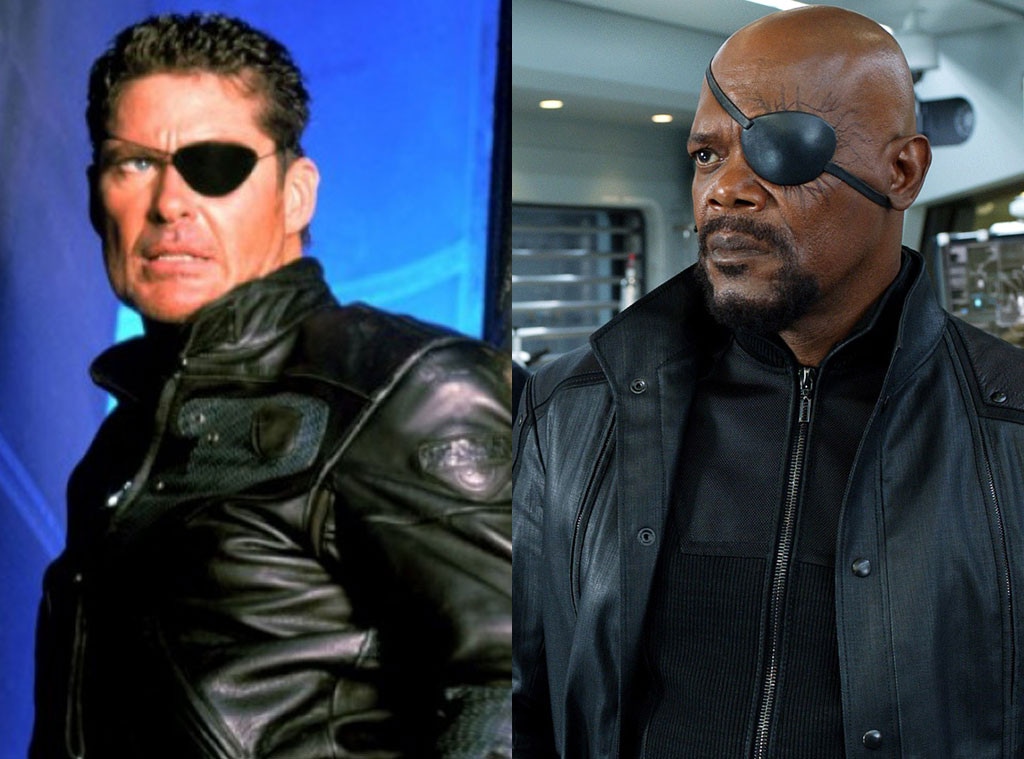 20th Century Fox, Warner Bros.
Don't Hassel the Hoff, and don't take any movie role David Hasselhoff wants either.
The 61-year-old actor played S.H.I.E.L.D. director Nick Fury in the 1998 TV movie Nick Fury: Agent of S.H.I.E.L.D, and he made it quite clear—then backtracked—that he wasn't exactly OK with Samuel L. Jackson playing the stealth spy on the big screen.
"I was the first Nick Fury," the Knight Rider star told Yahoo Movies in an interview published Wednesday, Sept. 4. "Stan Lee [the creator of the Marvel comic character] put me in that. He gave me the best line ever: 'Guys like you tend to cling to the bowl no matter how many times you flush.'"
"Stan Lee came on the set and told me all about Nick," he added. "He said 'You're the ultimate Nick Fury.' He gave me the greatest compliment ever."
And just what did the Hoff think of SLJ's performance as the iconic character in The Avengers? "You know, it wasn't Nick Fury," he said. "They take these shows and they make it the way they want to make it and unfortunately, they should have had Stan Lee on the set and let him kick him into gear—whoever directed [The Avengers] decided they wanted to go that way. But it's their prerogative. He's still a great actor."
"I was hoping to have played him in the movie," Hasselhoff added. "And then Samuel L. Jackson came in and he was a great Nick Fury but he wasn't really the consummate Nick Fury, the way he was written. And I think that's a shame because he's a great character and a funny character…I'm hoping to do it again sometime."
A day after this tell-us-how-you-really-feel interview went live, Hasselhoff changed his tune. "Set the record straight..Samuel Jackson is one of my favorite actors, a friend and I wish him well in all his roles," he tweeted, "especially Nick Fury !"