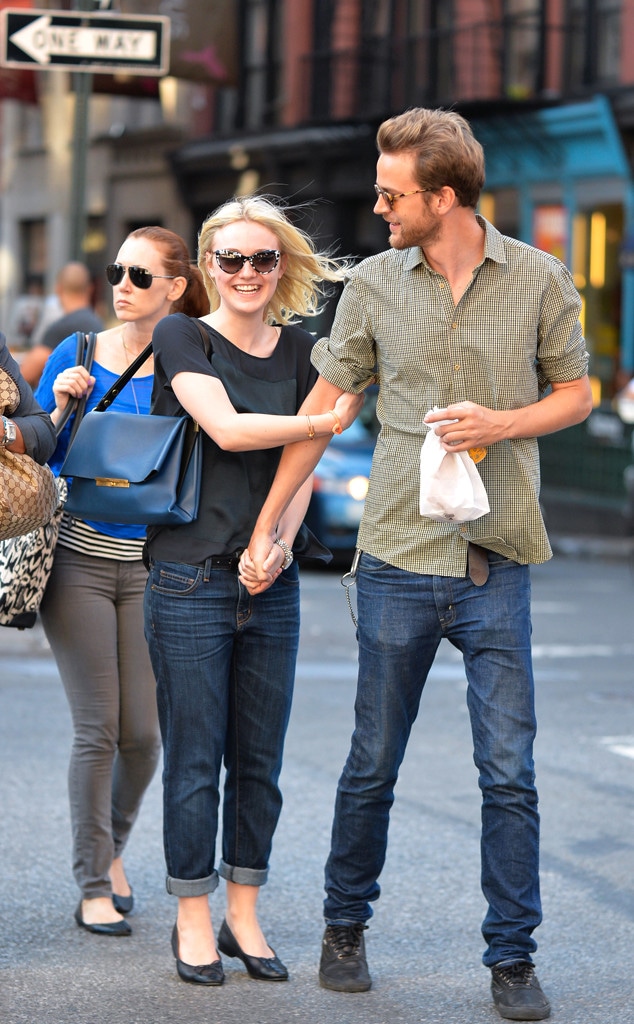 Luca Chelsea/Splash News
Well, don't these two look cute together?
Dakota Fanning and boyfriend Jamie Strachan were spotted in NYC, where the lovebirds were snapped looking blissfully in love and happy to be together.
The 19-year-old actress and her 32-year-old beau held hands as they strolled side by side, putting their affection for each other on full display, while Fanning flashed a giant smile as she grabbed her model man's arm.
The blond beauty looked cute and casual in a pair of boyfriend jeans, cat-eye shades and ballet flats, while her BF rocked jeans and a button-down shirt, looking handsome with his scruffy beard.
Despite their 13-year age difference, the duo appears to getting along swimmingly, and a source tells E! News the couple met through mutual friends and have been dating for quite a few months. 
Jamie is "very shy and incredibly nice and sweet," the source says, noting that he previously dated Behati Prinsloo, who is now engaged to Adam Levine.
The insider adds that the lovebirds are not living together, but really like each other and "are definitely a couple."
While Dakota has yet to dish any deets on the twosome's relationship, their romance may be headed in a serious direction, based off the recent comments the Runaways star made to Glamour magazine.
"I don't really date," Fanning told the mag in March. "I have a weird vision of relationships because my parents have known each other since second grade, and they got married right out of college. I've always thought that's what it's supposed to be like, and if it's not, then I don't want to waste my time on it. Even when I was 14, I was like, 'I'm not gonna marry this person. What's the point of doing it?' It's not me being naive. I just know what it's supposed to be like. And I think until I feel that, I cannot be bothered."
Only time will tell!
—Additional reporting by Baker Machado