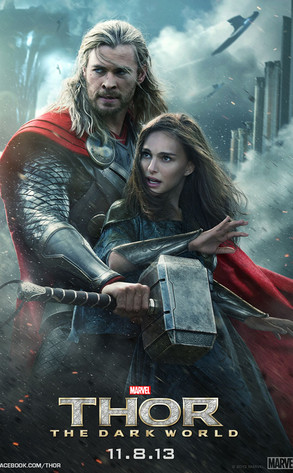 MARVEL
The Thunder God returns!
E! News has the exclusive first look at the latest poster for Thor: The Dark World, the highly anticipated sequel to Marvel's 2011's comic book blockbuster hit centering on the Asgardian hero.
The one-sheet shows Chris Hemsworth's Thor in protective mode as he holds his giant hammer in front of his ladylove, Jane Foster, played by Natalie Portman, to keep her safe from an unseen force as all hell appears to break loose around them.
The poster hints at foreboding things to come in this follow up which finds the Norse god one year after the events of The Avengers reuniting with his earthbound squeeze to save the Nine Realms from an ancient enemy—Malekith, ruler of the Dark Elves.