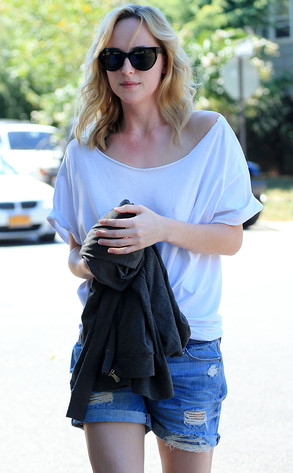 Jackson Lee / Splash News
Hey, Anastasia Steele, er, Dakota Johnson!
The 23-year-old Austin, Texas, native was spotted for the first time since being cast as the female lead in the highly anticipated and extremely sexy adaptation Fifty Shades of Grey, and it looks like the actress and her character share a similar fashion sense.
Johnson, who was on the set of Cymbelline in New York, showcased laid-back style by wearing Hannah Bruno jean shorts and an oversize, off-the-shoulder white shirt, something Anastasia—who classifies herself as a "T-shirt and Converse shoes" type of girl, before Christian Grey gets involved, of course—might wear.