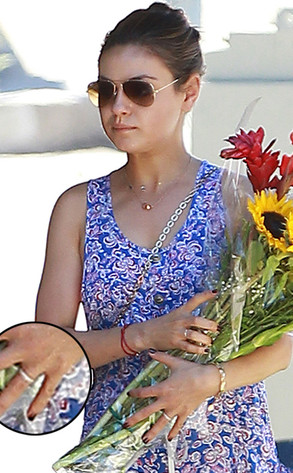 Premiere/Rocstar/FAMEFLYNET PICTURES
Could Mila Kunis be following in Scarlett Johansson's engagement footsteps?
Ashton Kutcher's gal stepped out in in L.A. today wearing a simple, thin gold band on her engagement finger. While it doesn't look like your typical giant diamond engagement bling, the ring will probably have people chatting about whether Kunis and Kutcher are taking the next step in their relationship.
In addition to the ring, Kunis sported a colorful blue dress, sandals and sunglasses. She had her hair up while carrying a colorful bouquet of flowers after going grocery shopping with her mom.