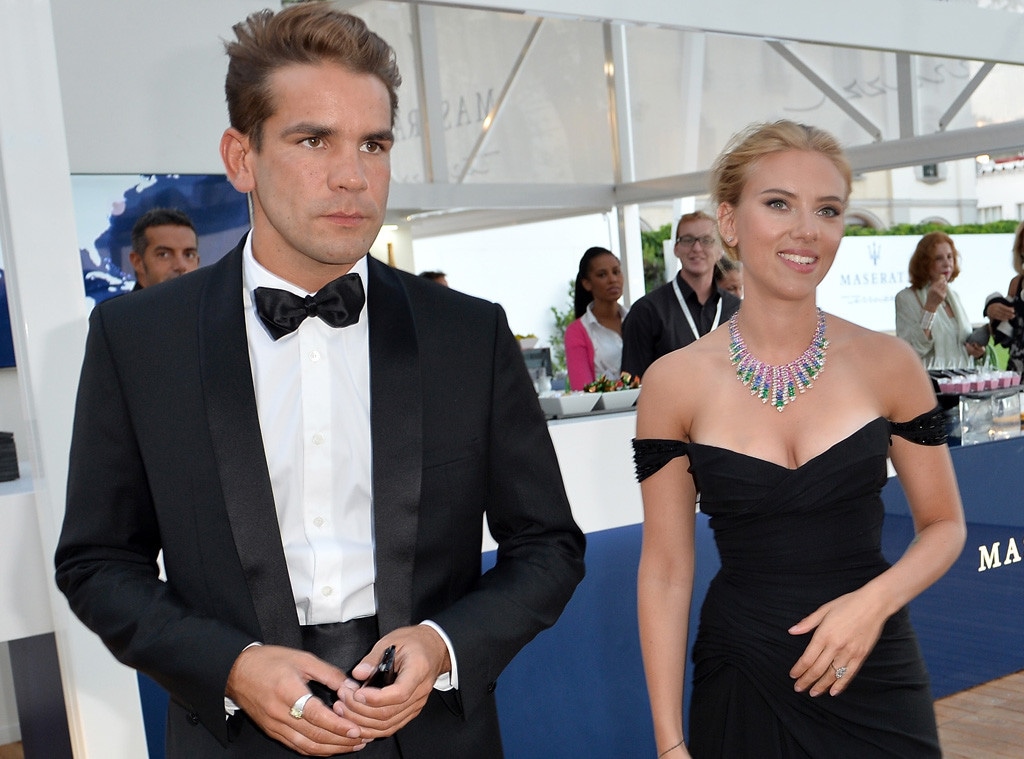 Tullio M. Puglia/Getty Images for Maserati
Apparently, the star who told Elle U.K. earlier this year that she "never" thinks about marriage may have changed her tune.
Scarlett Johansson is engaged to French boyfriend Romain Dauriac after dating for nearly a year, and although these two lovebirds weren't exactly too shy on flaunting their affection for one another, the announcement is still a surprise.
"It's really not important to me," Johansson said in February of walking down the aisle, but clearly things have changed, and that's probably because the journalist is a strong match for the star.
Here's why...
1. Ink Connection: It's not absolutely clear how the two met, but reports claim that Dauriac's pal, tattoo artist Fuzi, was the mutual friend that brought them together. (Fuzi was the tattoo artist behind Scarlett's recent horseshoe tattoo.)
2. Art Appreciation: Both ScarJo and Dauriac have an appreciation for creativity. The star's fiancé is the former editor of French magazine Clark which specializes in underground French urban art, and is currently manager of a creative agency. Meanwhile, Johansson is, well, Scarlett Johansson—actress, singer, performer and some would argue, a piece of art.
Elder Ordonez/INFphoto.com
3. Privacy Policy: It's clear that these two lead very private lives and enjoy it. Aside from pulling off a secret engagement, both Johansson and Dauriac are not big on the social networking thing, unlike most of Hollywood. (However, Dauriac does have a Twitter account, but he hasn't tweeted anything in over three years.) The celeb even admitted she's kind of dumbfounded by the whole idea. "All of it drives me crazy," she says of social media. "I don't understand this need to 'share.' We almost exploit ourselves in order to be seen."
4. Fans of the Rap Game: Even though Romain didn't tweet much, he once wrote, "Slick Rick, the best rapper ever?" So we can only assume that Dauriac is up with the rap game, and whaddya know, Scarlett Johansson raps! Well, only to Salt 'N' Pepa's "Shoop." And only the first line.
5. Having a Secure Relationship: We're guessing Dauriac is not the jealous or controlling type, because ScarJo made it very clear that those traits are not tolerated when it comes to her love life. "I don't like jealous behavior," Johansson reveals in an issue of Marie Claire. "I don't mind an occasional check-in, but when somebody is passive-aggressively jealous, it's really unattractive because it shows a sort of insecurity...Oh, controlling behavior is awful. Nobody's going to say they love that."