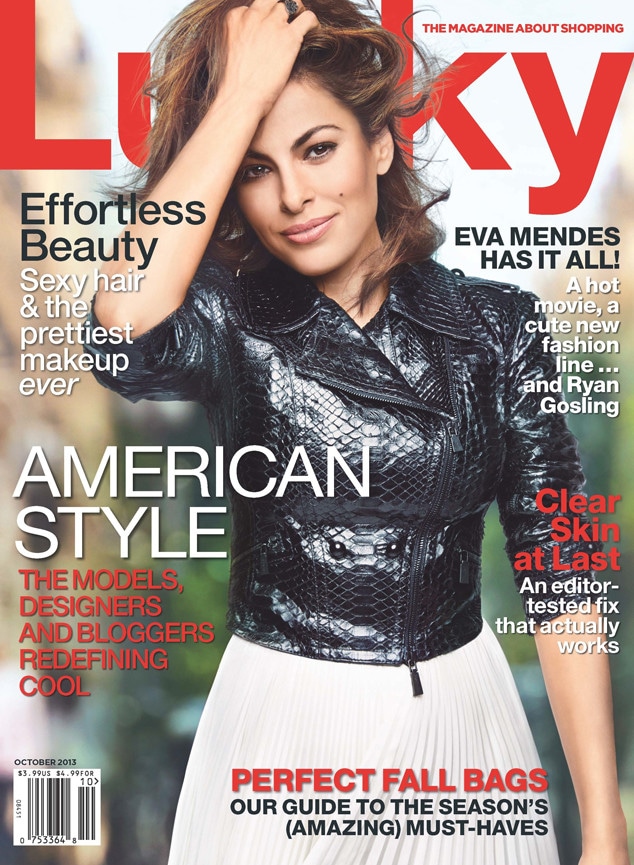 Patrick Demarchelier/Lucky
Mother knows best!
Eva Mendes is a self-confessed Method actor. "I'll do anything for a role!" she shares in Lucky magazine's 2013 October issue. "For A Place Beyond the Pines, I exercised a lot. I wanted my character to feel really depleted."
Luckily Mama Mendes won't ever let her daughter go too far. "My mom didn't understand why I would want to look that way," she explains. "She's constantly telling me I'm too skinny!"
But her figure isn't the only thing her mom likes to keep tabs on. "The way my mother keeps track of me is looking me up," she says. "I say, 'Please, Mother, don't Google me!'"
Patrick Demarchelier/Lucky
Luckily the actress is famously private about her personal life (like another October cover star), so you won't find much about her beau Ryan Gosling. "You can ask about my boyfriend. I just won't answer," she says with a wink.
What will get the star's lips flapping? Fashion. Specifically her collaboration with New York & Company.
"There are days when I don't feel great, but I put on my favorite dress and throw a scarf in my hair, and it makes all the difference," she says. "Hopefully my line can do that for women. Even if you're not feeling your best, let's admit it, the right outfit—it helps."
She goes on to add: "My customer is not a fan of the way tabloids cover celebrity style: 'Who wore it best' " she explains. "It's disastrous for women's self-esteem."
Guess she probably isn't a fan of Bitch Stole My Look then.