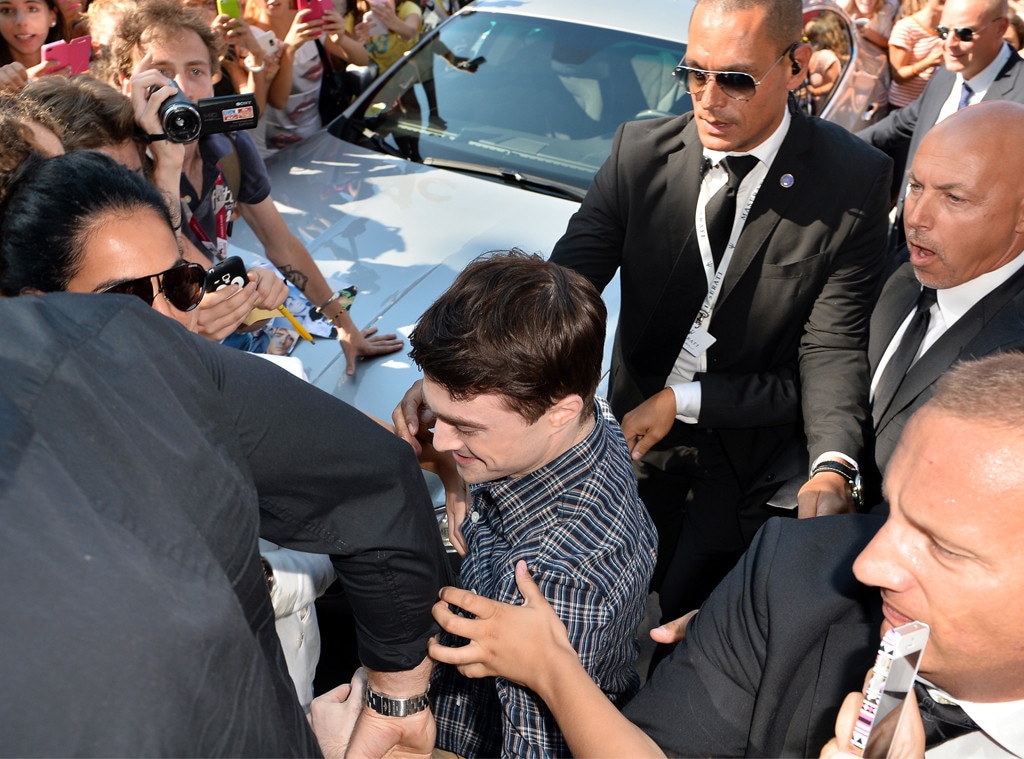 Tullio M. Puglia/Getty Images for Maserati
Watch out!
Fans of the star of Harry Potter went into overdrive Sunday at the Venice Film Festival. 
Hoards of screaming fans stampeded across the barricades once Daniel Radcliffe hit the red carpet for the premiere of his upcoming film Kill Your Darlings. 
Luckily for the 24-year-old, bodyguards and police came to his rescue to ensure his safety as he walked into the film's premiere.
But the fanfare (get it?) didn't seem to rustle up too many feathers for the movie star. He admitted during the press conference that he takes all the attention in stride.
"Thankfully, it's not always like this," he said as the crowds of people outside caused the windows to rattle in the building.
"I've been dealing with it in various ways since I was 11. I don't take it seriously, actually I think it's funny," he explained.
Radcliffe stars as a young Allen Ginsberg in the forthcoming Beat Generation flick, and confessed that he did worry about his fan base since the film deals with adult themes such as drug use and homosexuality. 
"I'm incredibly grateful for the swirl of support behind me," he said. "My fans seem to be excited by the unconventional path I am taking." 
He spoke on what originally interested him about the role as well, saying, "I love poetry and it was fantastic to get the part and have the opportunity to dive into Ginsberg's life. The diaries he made when he was young gave me an amazing insight into his character. 
Radcliffe joins a slew of celebs who have graced the red carpet at this year's Venice Film Festival. Everyone from Sandra Bullock to George Clooney has made their way to the gondola-chauffered festival.
He's set to head to the Toronto Film Festival next, where he has a whopping three films to promote: Kill Your Darlings, The F Word and Horns.
 Let's see how the fans react there!