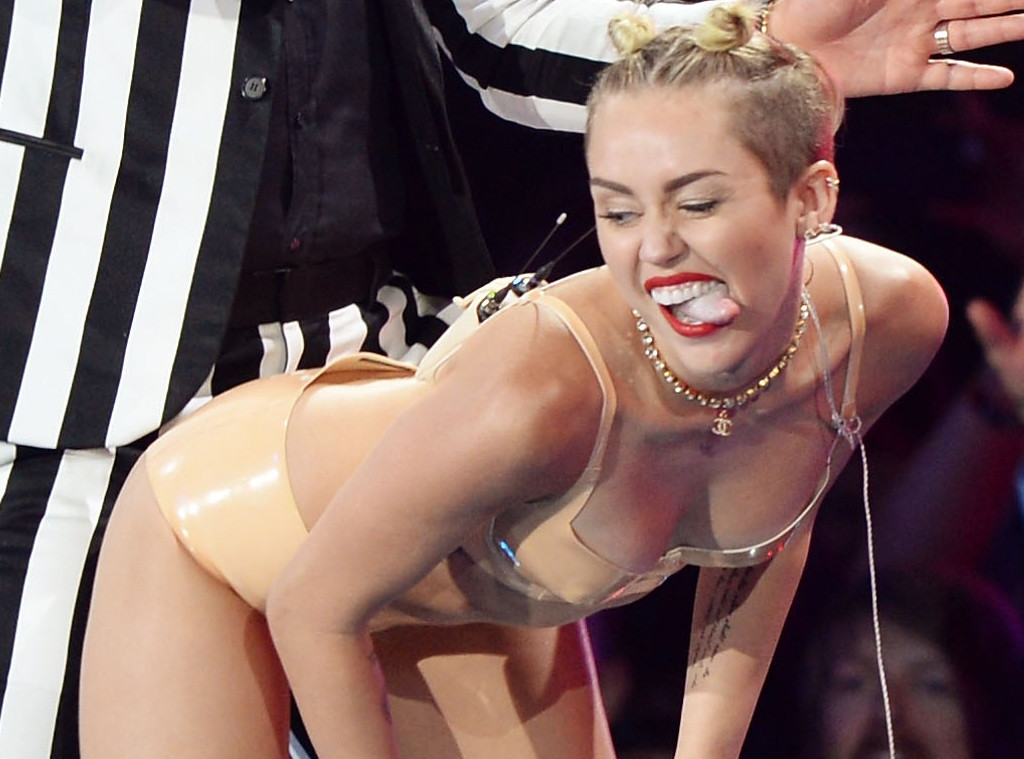 Andrew H. Walker/Getty Images
The course of history has been altered forever. Last week, before August 25, 2013, will now be qualified as the time Before Miley Cyrus Performed at the MTV Video Music Awards. Everything since is a dark abyss, an abyss in which you are forced to question what you thought you knew as true. 
All because Miley Cyrus twerked.
In a way, we were warned. Last Friday, Miley Instagrammed a picture of herself, licking a giant pink teddy bear costume. "Dear VMAs, I am about to f--kkkkk yoooooo s--tttttt uppppppppp. Love, Miley" she wrote.
Looking back, we couldn't have known she would also f--k all our s--t up, too.
This has been a week in Miley: 
Sunday:
In the hours leading up to the VMAs, Miley released the cover to her upcoming album, Bangerz, and a new track, "Wrecking Ball" (which is not so much a banger as it is just a ballad). Then, this happened...
Kevin Mazur/WireImage, Neilson Barnard/Getty Images for MTV
The 24 hours after Miley Cyrus twerked at the 2013 MTV Video Music Awards were jarring, to say the least. As the world was coming to terms with what had happened to us, Miley spoke: 
"Smilers! My VMA performance had 306.000 tweets per minute," she tweeted. "That's more than the blackout or Superbowl!  ‪#fact." She also excerpted compliments from a Rolling Stone recap of the awards. 
And then the memes began (because of course the memes began). And the ratings arrived and they were bigger than ever. And the rumors started (Did Miley's camp freak out over the performance?) and were quickly squashed (No).
It was on the third day that the Parents Television Council finally spoke (what took you so long, PTC?!), lamenting, "MTV has once again succeeded in marketing sexually charged messages to young children using former child stars and condom commercials."
One person who did not speak out was Miley's father, Billy Ray Cyrus (a member of the PTC, FYI), who canceled an appearance on Piers Morgan Live at the last minute. He did issue a statement to E.T. that "she's still my little girl" and he loves her "unconditionally."
Meanwhile, Miley, who sources said "got caught up in the moment" at the VMAs, was on a video shoot for "23," where she TwitPic-ed her ass.
Luca Chelsea / Splash News
Billy Ray finally spoke out. Kind of. Through Miley. Who tweeted: 
"'Mile, if twerkin woulda been invented.... And I had a foam finger.... I woulda done the same thang you did.' - DAD"
(Let that mental image soak in for a second.)
As humanity tried to pick up the pieces, both Miley Cyrus and Robin Thicke jetted away from Hollywood (separately). But Miley didn't need to be around to make headlines: Instead, a leaked track by her and Justin Bieber called "Twerk" (because of course it's called "Twerk") surfaced. 
Oxford officially added "twerk" to the dictionary. Was it because of Miley Cyrus? It wasn't not because of Miley Cyrus.
Also, her yoga instructor went on record saying Miley has a "hot" body.
Thursday:
Four days post-twerk. The inventor of the foam finger speaks out, blasting Cyrus for "taking an honorable icon and degrading it." He hopes that she will "outlive the event" and also "survive it."
Friday:
All is quiet on the Miley front. But they say it's quietest in the eye of the storm.