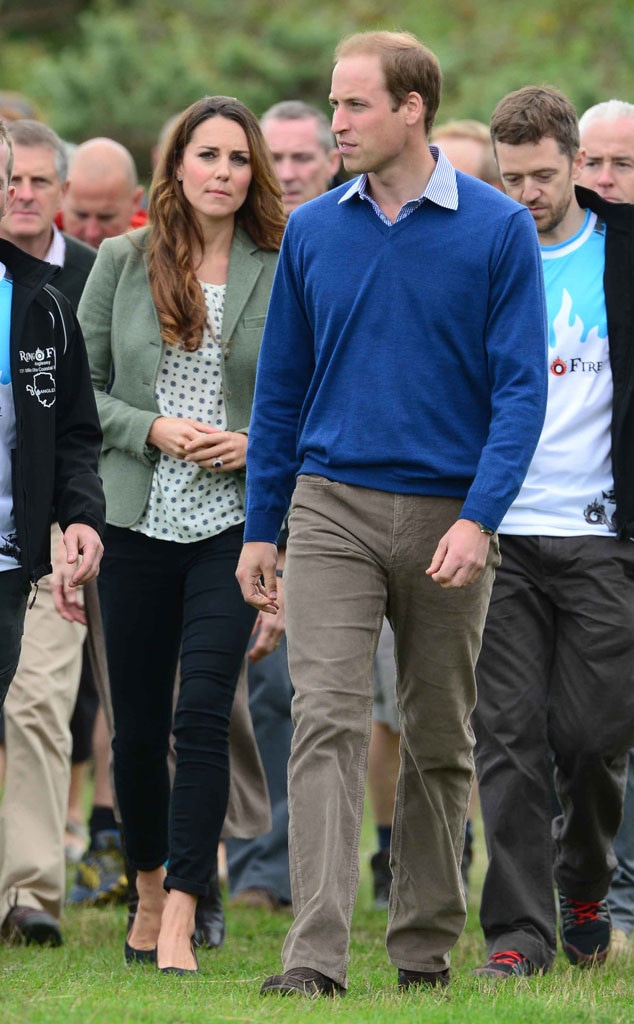 James Whatling / Splash News
Everyone was thrilled to see Kate Middleton step out with Prince William for her first public appearance since giving birth, but one question remained: where was little Prince George?
When asked how the little one, who is almost six weeks old, is doing, she said, "He's very well, thank you. He's sleeping at the moment."
She added that his "grandma" was taking care of him at the time—referring to her mother, Carole Middleton.
During the Duke and Duchess' outing at a running event on the island of Anglesey, the couple seemed relaxed and refreshed to be greeting the runners and residents of the town they've lived in for years.
James Whatling / Splash News
Wearing her Pied a Terre Imperia wedges, black skinny pants, a white Zara printed top with blue designs, and the green Ralph Lauren blazer she's had since her pre-princess days, the mom of one was positively glowing. (WhatKateWore.com was first to report the specific fashion credits.)
Kate's first post-baby public appearance was expected to be at the inaugural Tusk Conservation Awards on Sept. 12., but the palace confirmed the day of the ultra marathon she would actually accompany her husband to today's event.
And while this was Kate's first official public outing since becoming a mom, we also got a glimpse of her slim post-baby bod earlier this week as she did some grocery shopping in Anglesey. She even pulled off, impressively, horizontal stripes!
She can simply do no wrong, it seems.