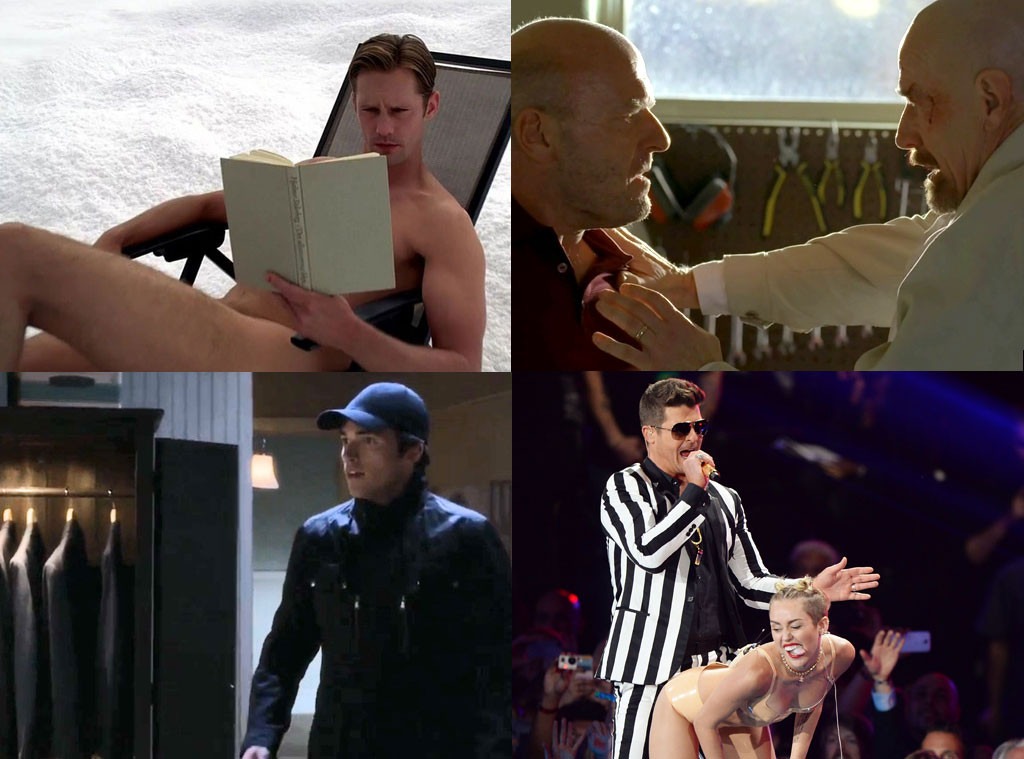 AMC, HBO, ABC Family, Getty Images
Labor Day is finally here. Your time to bid adieu to the sunny days and mumble a reluctant hello to the chilly air. (Well, unless you live in LA—it's hot as hell in the Autumn months!)
Although we're excited to welcome our favorite new and returning shows to our screens this fall, let's take a minute to look back on TV's most sizzling and shocking moments of the Summer.
From a twerk-tastically bizarre VMA performance, to "A" shocking reveal, and a full-frontal vampire surprise, we've gathered up six of the most talked-about TV moments from the past three months. Did your favorites make the cut?
Andrew H. Walker/Ben Gabbe/Getty Images
1. Miley Cyrus' Twerk-Attack at the VMAs: Goodness gracious what more can we say? The former Hannah Montana star's tongue heavy, foam-finger straddling performance at the MTV Video Music Awards shocked us, rocked us, and made all of our jaws drop to the floor. Cyrus also made our 2012 list of Summer's most shocking TV moment's but that was for a completely different, g-rated reason. My oh my, what a difference a year makes!
2. True Blood's Full Frontal Finale: Three words: Alexander Skarsgard's penis. Go ahead, call us immature, but we gasped and giggled when Skarsgard's vampire alter ego showed us his whole package in the True Blood season finale. Now the question is: Which Bon Temp resident will be the next to get naked?

3. Pretty Little Liars' Big ReveAl: Shocking? More like mind-blowing! In PLL's summer finale we learned that (SPOILER ALERT!) Ezra is the presumed leader of the "A" Team. Following the reveal we went through a wide range of emotions: Shock, anger, heartbreak, fear, confusion and, of course, complete and utter betrayal. (How could you Mr. Fitz?!) But then we chatted with Ian Harding about Ezra's dark intentions, and we're feeling very excited about his new twist.
4. Lindsay Lohan's Lackluster Interview: In the infamous screamed words of Miss Tyra Banks: We were rooting for you Lindsay! We were ALL rooting for you! Unfortunately the troubled starlet's first post-rehab interview with Oprah Winfrey did not bring the fully truthful answers we were looking for. (Do you really expect us to believe that you only tried cocaine "10-15" times in your life LiLo?) The truly shocking part was that Lohan's highly-anticipated sit-down brought subpar ratings for OWN.
5. Breaking Bad's Brother-in-Law Throwdown: The have been plenty of shocking moments over the past five seasons of Breaking Bad, but the Hank v. Walt showdown in the summer premiere was truly epic. The alpha-male face-off in the last five minutes left us breathless as we realized that the always-cunning Heisenberg might not going to escape the series unscathed.
Jessica Miglio for Netflix
6. Orange is the New Black's Overall Addictiveness: Orphan Black may have been Spring's most buzz-worthy show, but Netflix's new behind-bars drama, Orange is the New Black, definitely took the title of Summer's most talked about series. In addition to giving you seven reasons why you need to watch, we also took the time to prestigiously rank all of the OITNB inmates from best to worst. You're welcome.