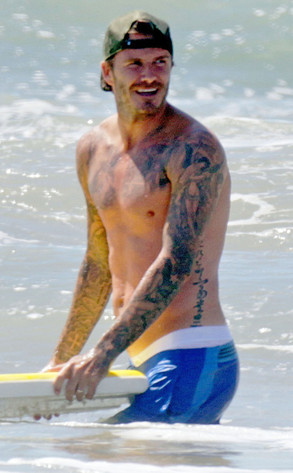 KVS/Pedro Andrade, PacificCoastNews.com
Since retiring from soccer, David Beckham is putting his passion into body art.
The 38-year-old sports legend showed off his 33rd tattoo on the right side of his chest as he took his kids to Malibu beach on Thursday.
Per the U.K. Daily Mail, Beckham's latest design is a little tough to make out as of yet, but it's said to be a portrait of Jesus drawn to look like David being lifted from his tomb by three cherubs, representing Beckham's three young sons,14-year-old Brooklyn, 11-year-old Romeo and 8-year-old Cruz.
Standing near them is also the image of a woman and while 2-year-old daughter Harper doesn't appear to have made it into the scene, she does have her name scrawled across his left side.