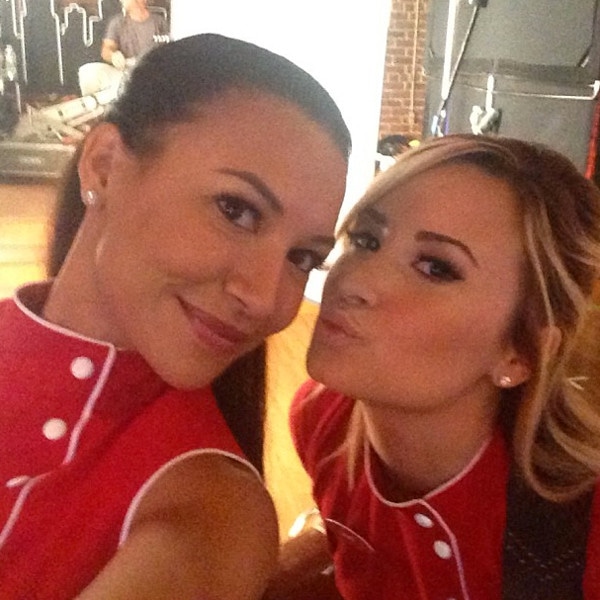 Instagram
A picture is worth a thousand words, but an Instagram is worth at least a million!
Hot from the set of Glee's fifth season, Naya Rivera just posted the cutest selfie of herself and her brand-new costar Demi Lovato. In case you've been living under a massive Glee-free rock, Lovato is guest starring on the hit musical comedy as newbie character Dani, a struggling artist in New York who befriends Rachel (Lea Michele) and Santana.
Oh, but we didn't forget the most important part! In addition to sharing scenes with future guest star Adam Lambert, Lovato is reportedly set to play Santana's new love interest. Sorry, Brittana fans, it looks like Lovato will be getting all those sweet lady kisses now!
Rivera tweeted the photo of the two costars looking pretty affectionate, (nearly sharing a smooch!) and dressed in matching red-and-white outfits. The pic was also paired with the caption: "Fancy. @ddlovato #goodside #dantana?" You know we're all about the shipper names, but we personally think that Santani has a truly adorable ring to it! Don't you agree?
On the red carpet for the 2013 MTV Video Music Awards, Rivera spilled the news that Lovato will indeed be her newest onscreen love. "I mean, she's playing my love interest, so I'm very, very excited about that," the 26-year-old actress tells MTV. "We get to sing a song together. It's gonna be good. I'm excited to work with her."
Despite Rivera's reveal, Lovato's reps cannot confirm whether or not the X Factor judge will be playing Santana's new sweetheart. The "Heart Attack" singer is set to make her Glee debut on Oct. 3 in the second episode of the comedy's epic two-part Beatles extravaganza, and it's rumored that the two talented ladies will be singing "Here Comes the Sun" together.
Don't miss the season-five premiere of Glee Thursday, Sept. 26 at 9 p.m. on Fox!
Wait a minute, on second thought, let's get to this bottom of this! This shipper name debacle has sparked a mini feud on Twitter and we're interested to hear where your lady-loving loyalties stand.
Rivera has suggested the name Dantana, but her hesitant question mark leads us to believe that she's open to new suggestions. We're all kind of obsessed with Santani (It's sophisticated and sultry—a la a martini) And a third short but sweet option, Sani, has been floating around the interwebs as well.
So let's vote it out! Click your heart out in the poll below for your favorite Satana/Dani shipper name!
Which Shipper Name Should We Give Glee's Santana and Dani?
Don't miss the season five premiere of Glee Thursday, Sept. 26 at 9 p.m. on Fox!