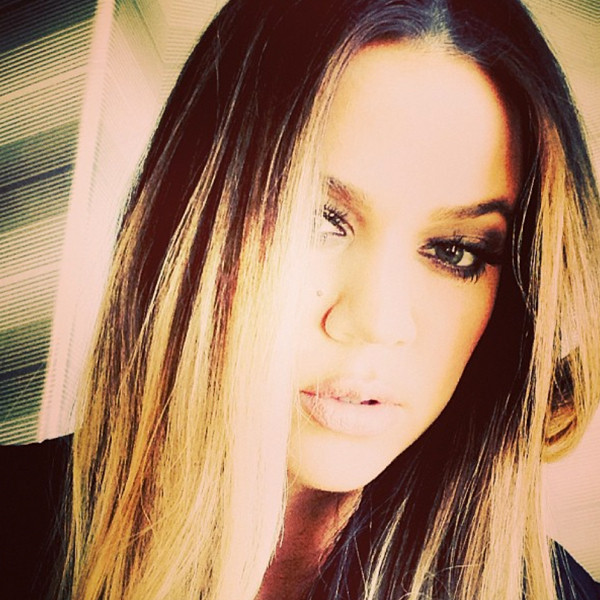 Instagram
Sometimes a selfie is worth a thousand words.
Khloé Kardashian Odom just snapped a selfie on her Instagram looking all kinds of gorgeous.
The brunette beauty captioned the pic with an emoji of lips but didn't divulge anything else.
She's been fairly quiet recently, as the rumor mill buzzes about a possible split from her professional basketball player hubby, Lamar Odom.
However, a source close to the situation told E! News earlier this week that the media speculation is simply not true.
Kevin Winter/Getty Images
"They have never spoken to a divorce attorney," the insider explained. "Right now the family is focused on getting Lamar better."
It appears that the close-knit clan is banding together to help the former Lakers star get back to optimal health.
A second source told E! News that Kim Kardashian was "shocked" to learn that her brother-in-law had been struggling with substance abuse—information that Khloé only recently disclosed to the rest of her family.
But now that she knows, Kim is being "very supportive," the insider said. "She only wants what's best for Khloé."
Kim "would like to see them work it out," the source adds. "She knows how much they love each other. Everyone in the family feels divorce should be the last option."
Khloé was photographed on Monday wearing her massive diamond wedding ring, and Lamar was spotted Wednesday behind the wheel of his Mercedes SUV sporting his ring as well.
The youngest of the Kardashian sisters has only cryptically spoken on the personal matter with a slew of thinly veiled Instagram and Twitter messages.
Just last week she posted a message that read, "Never judge someone without knowing the whole story. You may think you understand, but you don't."