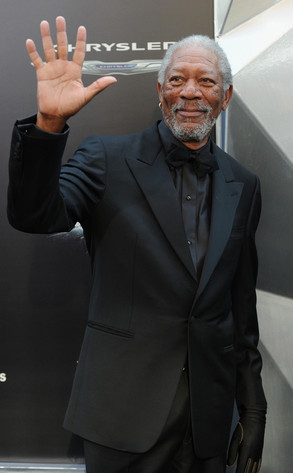 Jamie McCarthy/Getty Images
Who better to fill folks in on the mysteries of the universe twerking than Morgan "The Explainer" Freeman!
The acting legend and Through the Wormhole host appeared on HLN's Morning Express with Robin Meade and—after prodding from the anchor—read the definition of twerking on air for those still clueless about the sexually provocative booty-shaking dance.
Of course, the word seems to be everywhere these days, no doubt helped along by Miley Cyrus, who apparently has been pulling out the stops to popularize twerking with the masses as evidenced by her racy VMAs performance.
The term has cemented its place in pop culture so much that Oxford Dictionaries announced Wednesday that it would be including it in future editions (as a verb, natch).
Thank goodness, Morgan's on the case. But for anyone wanting to know the ins and outs of twerking in detail, we also suggest checking out E!'s very own Beginner's Guide to Twerking.