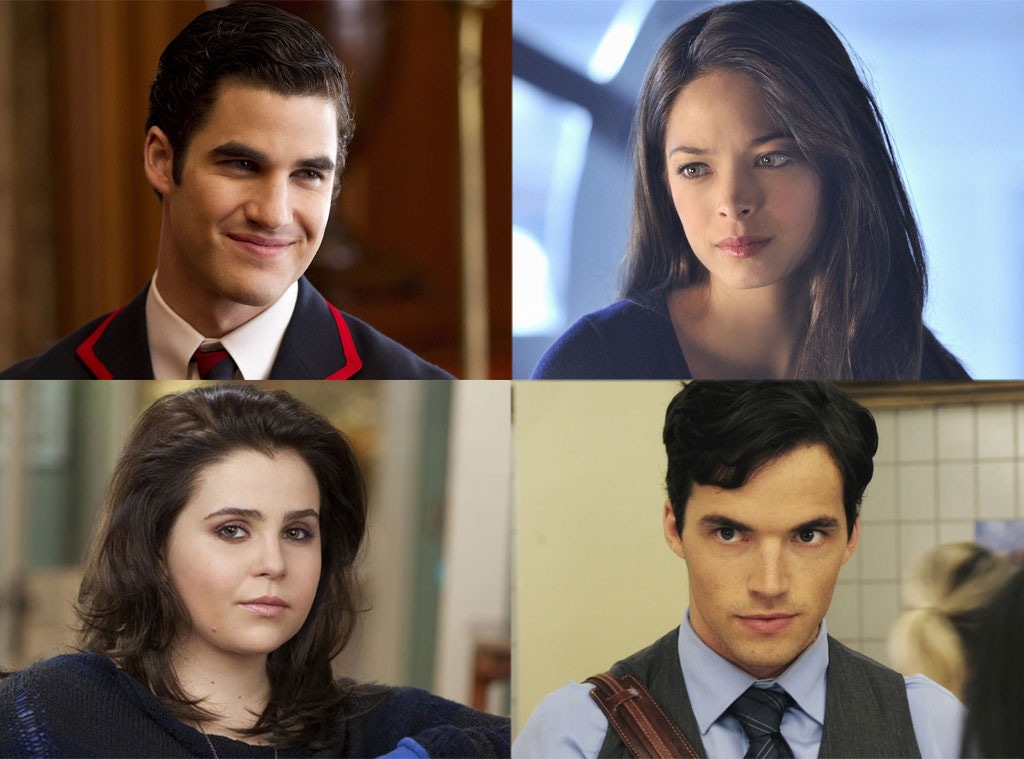 Sounds like New Directions might be getting a new star!
We've got some Glee scoop on some new blood coming to McKinley High in season five, and this person sounds positively dreamy. And in case you didn't get enough from our exclusive interview with Pretty Little Liars' Ian Harding, we have more from "A" himself! All that, plus scoop on How I Met Your Mother, Parenthood, Beauty and the Beast and more in today's serving of Spoiler Chat:
Kate: Keep the Glee spoilers rolling! I need them to survive until the premiere!
A source revealed to us that two of the Beatles songs in the season-five opener are "I Saw Her Standing There" and "Yesterday." Speculate away on who will be singing what and to whom. Also, Glee is currently looking for a new high school star that will be a major recurring role. As always, this new man will be an excellent singer and dancer and most likely super cute. New glee club member on the way?
Ryan: I'm still in shock over that Pretty Little Liars summer finale! What can you say about the Halloween episode?
According to our new A team leader, Ian Harding says that this year's Halloween special is definitely a can't-miss episode. "I am in Ravenswood, Mr. Fitz is in Ravenswood. To what extent will be shrouded in mystery," he teases. "There are some parts that are actually legitimately scary, like really scary… So we're going to get the thrills and the fashion and it's going blow people's minds. And we're introducing new characters and all that so it'll be fun."
Sasha L.: Loved the How I Met Your Mother scoop in yesterday's Spoiler chat. Can I bug you for more?
Bug away! We'll be meeting Robin's family in the final season (obviously, it's her wedding, after all), but a certain family member won't be there to bless the nuptials. Ted is convinced that Robin's French-Canadian cousin is putting together a ploy to sabotage the wedding. The cause? It's hockey related. Aren't most Canadian grievances hockey-related? Oh, we kid.
Marc: Any info on Parenthood's new season?
We won't have to wait long to see the birth of Jasmine and Crosby's baby. The delivery goes smoothly, but the drama starts when Jasmine gets her first look at the newborn. And that's not where the drama ends. Prepare for a truly heartbreaking conversation between Amber and Ryan to start the season off right. Pass the tissues, Parenthood is back!
Olivia: May I pretty pretty please have some Beauty and the Beast scoop? Please with sugar on top?
Oh, goodness! Since you asked so sweetly, we'll give you everything we've got! Brace yourselves BATB fans because we're going to meet two very intense characters when our dark drama returns this fall. Zach is an attractive yet cocky former soldier with a deep and dangerous secret. He'll be reuniting with an old friend, and although we can't tell you who that "friend" is, we can tell you that the reunion won't be a happy one. We'll also get to meet Beth, Cat's friend from high school, whose overly-curious personality as a journalist leads her into situations she may regret getting into.
James M: Suburgatory me!
Buy us a drink first. When Suburgatory finally returns to our TV's we're going to be introduced to a hot new hangout: A Pressed Nation. It's a juice bar that is all the rage with the health-crazed Chatswin residents—even George falls under its fresh and organic spell. On an unrelated and very depressing note, George and Dallas are still broken up and we kind of want to cry.
Dani Bree: If I could I would move to Bluebell and never ever leave! What's coming up on my beloved Hart of Dixie this season?
It must be spring time in Bluebell because new friendships are blooming! (Ugh, so sorry. That was unbelievably lame. We realize that.) We recently chatted with the lovely Kaitlyn Black and she exclusively told us that AnnaBeth and Zoe are going to get super close—like braid each other's hair close. "Yes there will definitely be a stronger relationship between the two of them and we will get to see lots of AB/Zoe shenanigans," she says. So does this mean that AB and Lemon's Belle bond is broken? Black explains, "Zoe is not taking the place of Lemon but with Zoe being very close to Lavon and AB being in love with Lavon they definitely get to hang out with each other quite a bit more." We can't wait to see their crazy Bluebell antics!
Lauren: You always forget about 2 Broke Girls! What gives?
Don't get your apron in a twist! We were just waiting until we had some good scoop about our favorite CBS waitresses. There's a new waiter headed to the diner and he's fierce, fabulous, and a lover of all things Sex and the City. He's got Max's snark, Caroline's sense of fashion and a huge crush on Oleg. Luckily for him, it looks like Oleg is back on the market. Poor Sophie!