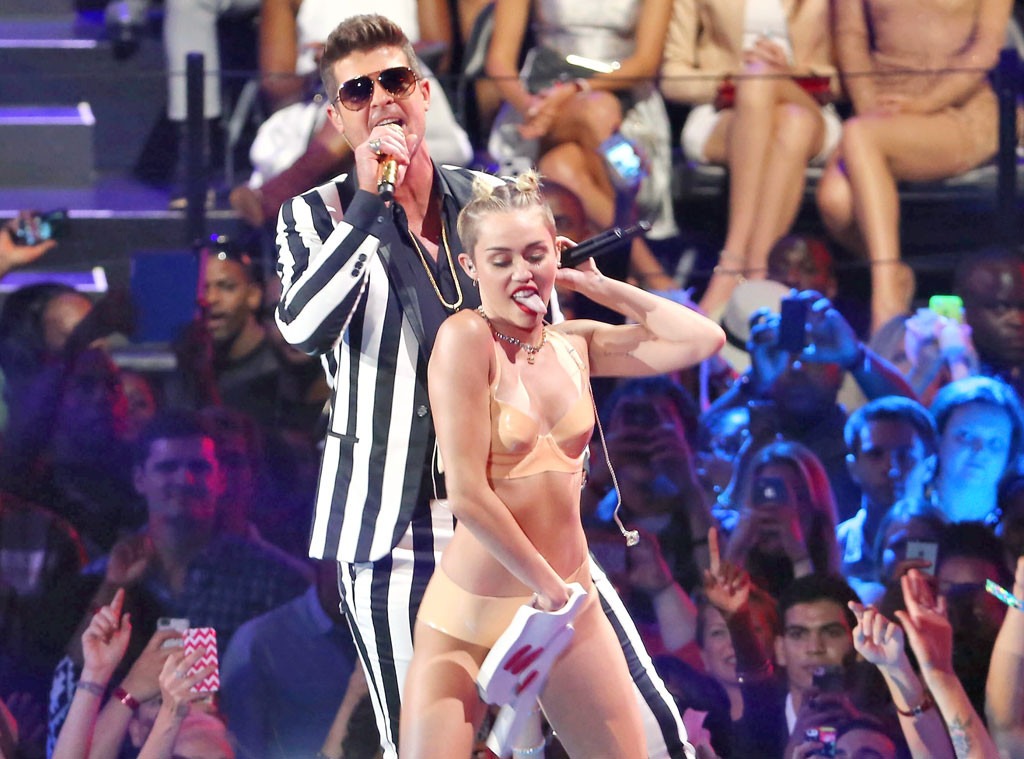 Neilson Barnard/Getty Images for MTV
Once Miley Cyrus got started at the MTV Video Music Awards, it was obviously no use trying to stop her.
But it turns out that no one—perhaps not even Miley herself—knew exactly what was coming.
"She was caught up in the moment. That's Miley," a source tells E! News, revealing that there wasn't as much tongue, twerking and foam-finger action from the 20-year-old during rehearsal.
"People need to understand she was just having fun," the insider adds.
But the fun has only just begun for critics of the performance, who can't get enough of wagging their regular-sized fingers at Miley, who has been deemed everything from inappropriate to confusing to "desperate" to the best darn thing at the VMAs this year.
"Miley's my friend and I love her, and I have her back no matter what, but as her friend I'm going to tell her: Put your f--king tongue in your mouth," Fashion Police cohost Kelly Osbourne said on last night's special VMAs edition of the E! show. "I love you, but just put your tongue in your mouth."
An eyewitness to the rehearsal, meanwhile, says the dress rehearsal was still pretty raunchy, so the live show didn't come as a huge surprise.
And while a rep for Robin Thicke denied a report that the "Blurred Lines" singer was disappointed in how the finished product turned out, a source tells us that Miley was supposed to retreat into the background at some point during their duet so that Thicke could enjoy a spotlight moment.
Rick Diamond/Getty Images for MTV
A source also told us that, contrary to reports, Miley's camp was not freaking out over her racy showing.
"Everyone is overreacting," the source said. "Pretty much everything on stage [Sunday night] we've seen Miley do in" her "We Can't Stop" video.
Minus the Robin Thicke part, of course.