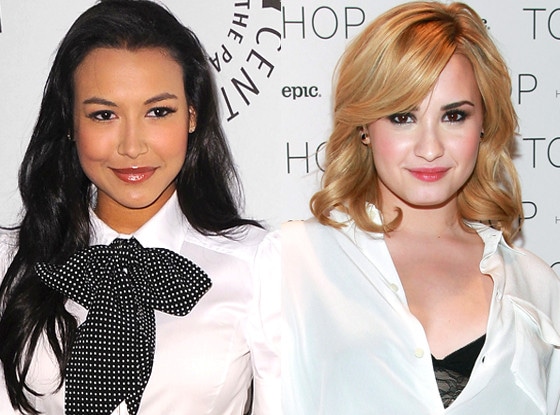 Michael Buckner/Getty Images; Taylor Hill/FilmMagic
Love is in the air on Glee!
With the season five premiere less than a month away, we're starting to get more details about the brand-new episodes—and it looks like things are heating up for some of our favorite Gleeks!
You all should know by now that Demi Lovato is the newest A-lister to join our musically-inclined cast—but did you know that she's going to be playing Santana's (Naya Rivera) new love interest? We've got all the details!
Plus, we've snagged you an amazing first look promo, narrated by the dashing Darren Criss, that finally give us our first glimpse as to what's ahead when Glee returns. Not only do we have footage from the new season, but Criss was kind enough to spill some Klaine scoop as well.
Now that Santana is back on the dating market, we've been eagerly waiting to see who she'll be sharing sweet lady kisses with. On the red carpet for the 2013 MTV Video Music Awards, Rivera spilled the news that Lovato will indeed be her newest onscreen love.
"I mean, she's playing my love interest, so I'm very, very excited about that," the 26-year-old actress tells MTV. "We get to sing a song together. It's gonna be good. I'm excited to work with her. We're bringing her to the dark side. Well, she comes on in a Beatles episode, so [we're singing] a Beatles song." Reportedly, Santana and Lovato's character, Dani, will be singing "Here Comes the Sun."
Despite Rivera's reveal, Lovato's reps cannot confirm whether or not the X Factor judge will be playing Santana's new sweetheart.
"At this point all we can confirm is that Demi Lovato plays Dani a, NYC-based struggling artist friend of Rachel (Lea Michele) and Santana's. Viewers will have to watch her character's storyline develop when episodes air," Lovato's rep tells E! News.
Fox also wouldn't confirm the report, telling us that "no additional character information is available at this time"
Now let's jump right back into the halls of McKinley High because we've got a national title to defend! Criss explains that Mr. Schue (Matthew Morrison) has tasked the glee club an epic two-week challenge to help them prep for the big competition. "We are coming back with one of the greatest secret weapons: Beatle-mania!" Criss exclaims.
We may be prepping for a brand-new season of Glee, but some things will never change. The star reveals that newly appointed Principal Sue Sylvester (Jane Lynch) is back and bitchier than ever. "Sue Sylvester is up to her old tricks being evil and mean, five seasons later Sue continues to destroy the glee club," he says. But wait, serious question: Does this mean no more Principal Figgins?! Sigh.
Last week, we all saw the steamy on-set pic of Blaine and Kurt (Chris Colfer) sharing a smooch, so does this mean that Klaine is back together?
Criss teases, "At the end of season four we had a little bit of a cliff-hanger, I don't know, maybe, kinda, sorta. A little box behind Blaine's back. Who knows what's in the box? Blaine is getting ideas and it might have something to do with something that rhymes with shaposal." All together now Klaine fans: Squeee!!
Take a look at the full video above to see your first look at the New Direction's quest for victory and don't miss the season five premiere of Glee Thursday, Sept. 26 at 9 p.m. on Fox!