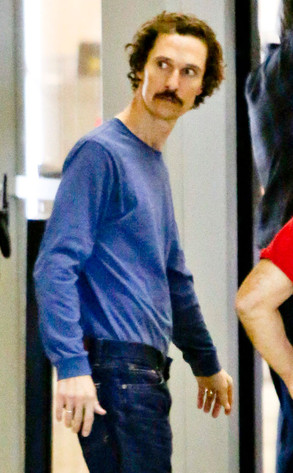 AKM-GSI
We've seen the startling photos stemming from Matthew McConaughey's dramatic weight loss. Now, we're getting a glimpse of the movie he shed all those pounds for in this new trailer for Dallas Buyers Club.
In the film, the 43-year-old actor plays Ron Woodroof, a heterosexual man diagnosed with HIV in 1985 who proceeds to smuggle alternative drugs into the U.S. from Mexico in hopes that they will help him and other stricken patients.
McConaughey shed nearly 40 pounds for the role.
At the time, the star told Hitflix he "still [feels] good" in spite of his rail-thin appearance.
He added, "Overall, [I've] probably got 35 percent less energy, but there's been plateaus. Getting past 170 was really hard, but then once you get [to] 167 the next seven come off easy. Getting past 160, really hard. But then you fly down to 150. Getting past 150 was really hard and then, bam!"