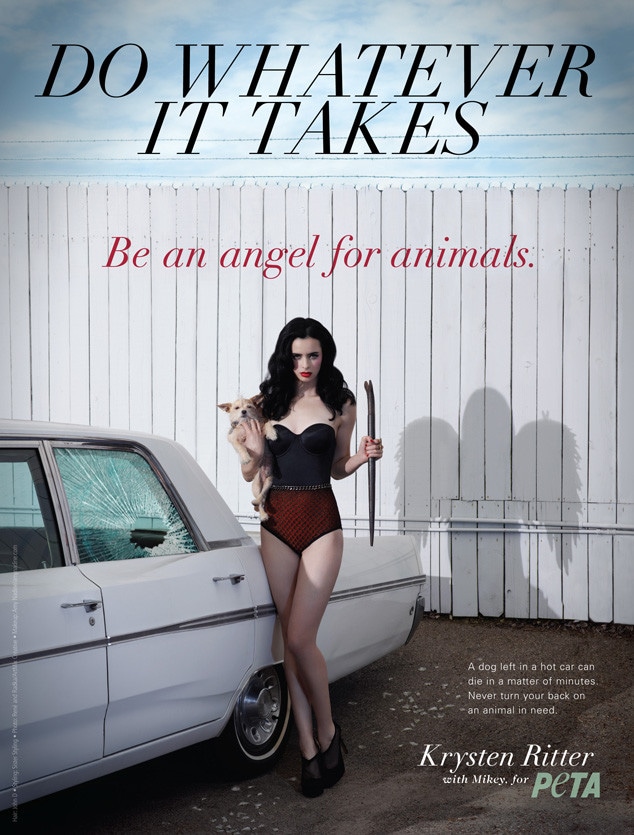 Peta.org
Krysten Ritter is taking a stand against animal cruelty.
In a hot new ad for animal rights organization PETA, the Don't Trust the B----- actress is speaking out in the name of her furry friends.
In the ad, Ritter stands next to a car with a busted window after saving a dog named Mikey from the inside of the hot vehicle. Ritter, who looks red hot in sexy Hanne Bloch bikini briefs and corset top, holds Mikey in one hand and a crowbar in the other while a shadow of angel wings appears in the background.
"Do Whatever It Takes. Be an Angel for Animals," the ad reads. "A dog left in a hot car can die in a matter of minutes. Never turn your back on an animal in need."
"I think it's something that people don't think about," Ritter explained in an exclusive PETA interview. "It's hot outside—your car is like a fishbowl. So the light comes in, and it gets trapped, and it gets really hot in there really quickly."
She continued, "If you see a dog in a hot car, and you think that he's in danger or that he's been there for a while, it's good to speak up...go into whatever businesses it's parked outside of, and just raise awareness about it."