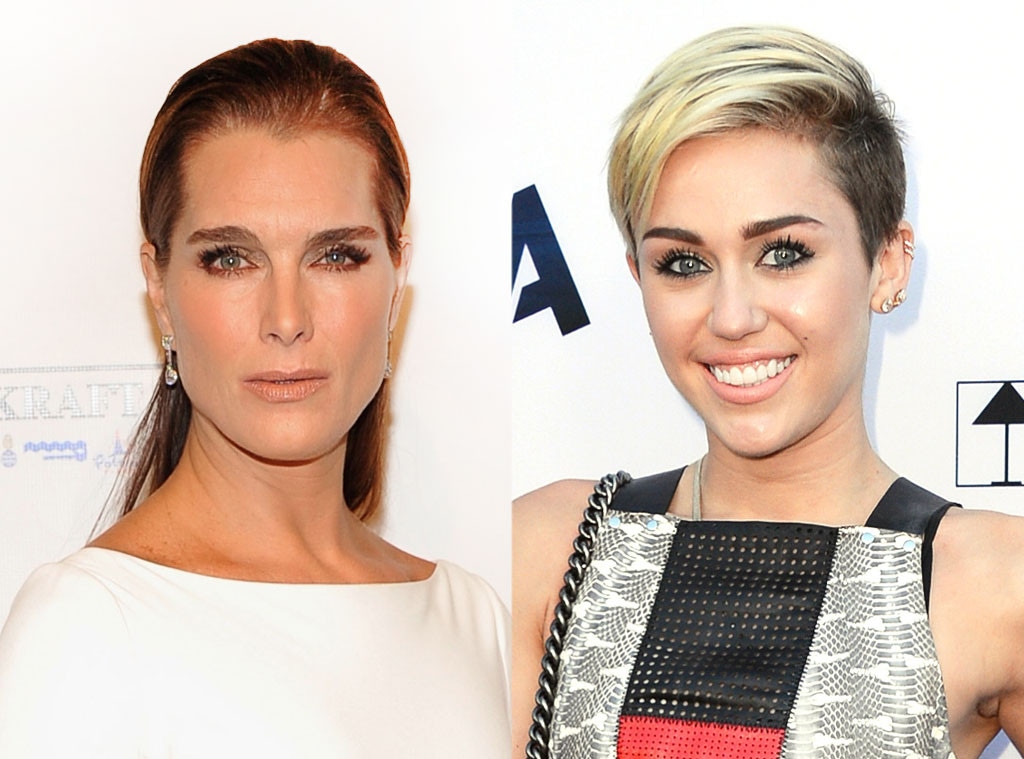 Theo Wargo/WireImage; AP Photo
You're not alone if you were left thinking Miley Cyrus was trying way too hard to shock us all with her raunchy performance at the MTV Video Music Awards.
"I was Hannah Montana's mother. I do not approve," Brooke Shields—who made a number of appearances as Cyrus' mom on Hannah Montana—exclaimed on the Today show Monday morning while discussing the former Disney darling's eyebrow-raising performance at Brooklyn's Barclays Center last night.
"Where did I go wrong?" the mother of two added, waving her hands in hysteria.
Jokes aside, the 48-year-old star couldn't help but comment on Miley's onstage antics, which included sexual gestures, suggestive dance moves and tons of tongue action all while the 20-year-old pop star pranced around in a nude colored bra and matching underwear.
Oh, and did we mention she also got down and dirty with Robin Thicke while the twosome performed a medley of their hit singles "We Can't Stop" and "Blurred Lines"? Because that happened, too.
"I just want to know who's advising her, and why it's necessary," Shield's says of Cyrus' VMA display. "I mean the whole finger thing and the hand and Robin [Thicke] probably at that point was going, 'I don't think this is a good idea."
Neilson Barnard/Getty Images for MTV
"[Our children] can't watch that," she added. "I feel like it's a bit desperate."
While Liam Hemsworth's fiancée certainly wasn't the only performer to put on an eccentric show, Shields says there's a distinct difference between Miley and other artists like Lady Gaga, who are known for their shocking routines.
"Are you trying to be Gaga? (Gaga has) a genius behind all of it," Shields explained. "It's not just display, you know, I think it's different"
Rick Diamond/Getty Images for MTV
And after Today cohost Willie Geist notes there's a big "Disney overcorrection," Shields wholeheartedly agrees, saying how Miley has been trying to distance herself from her Disney reputation since the end of Hannah Montana (remember "Can't Be Tamed"?)
"We noticed that when we went to her concert with my daughters, who were obsessed, and they met her when I was playing her mother. And then we went to her Miley Cyrus concert and it was a very different vibe," she explained. "You could see her trying so hard to go against that...She can sing beautifully, and I feel like if she lets that lead, rather than let her bottom lead....And the tongue out, and I think it's just a little desperate… trying so, so hard."
Despite the criticism, Shields did give Miles some props for much buzzed-about performance.
"She went for it," she said. "You've got to give her some credit. We're all talking about her."
Very true. As for father Billy Ray Cyrus' thoughts on his daughter's twerktastic show?
"Thanking God for so many blessings tonight," he tweeted last night. "Continue to pray for world peace. More love ...less hate." 
He later clarified the meaning behind his tweet, "FYI"Love Not Hate"Late last night I was watching devastating news out of Syria. Chemical weapons used on innocent children is unacceptable!"
Meanwhile the Parent Television Counsel has released a statement condemning the "We Can't Stop" singer's act (can't say we're surprised).
"MTV has once again succeeded in marketing sexually charged messages to young children using former child stars and condom commercials — while falsely rating this program as appropriate for kids as young as 14. This is unacceptable," PTC Director of Public Policy Dan Isett said in a statement. "MTV continues to sexually exploit young women by promoting acts that incorporate 'twerking' in a nude-colored bikini. How is this image of former child star Miley Cyrus appropriate for 14-year-olds?"
Hmm. Maybe Billy Ray's tweet should read "more singing...less twerking"?
Do you agree with Shields? What did you think of Cyrus' performance? Tell us in the comments!