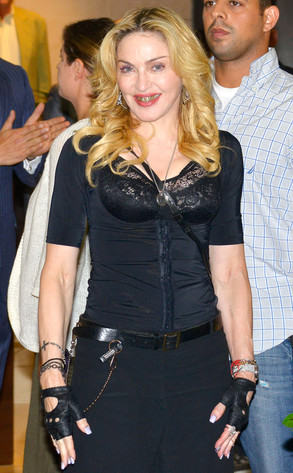 XPOSUREPHOTOS.COM
Madonna's expressing herself all right—with a gold grill.
She may be 55, but the Queen of Pop proved she still can keep up with the times as she rocked some glittering choppers when she turned up Wednesday for the opening of her Hard Candy fitness studio chain in Rome.
Arriving at the Colosseo gym for what was ostensibly a quick tour of the facility, per the UK's Daily Mail, Madonna donned a black minidress, black tights and fingerless leather gloves to go along with the shiny new mouth piece, which is said to be detachable and encrusted with 24 diamonds.