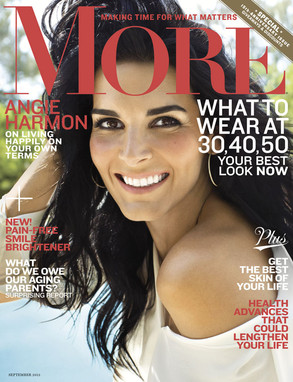 More Magazine
Angie Harmon is not your ordinary Hollywood actress.
The stunning star of Rizzoli & Isles is getting candid—extremely candid—in the latest issue of More magazine.
In the special 15th anniversary issue, she talks about being a republican in Tinsletown and her personal thoughts on homosexuality.
"I'm a liberal republican…we actually exist," she told the mag. "Call it naïveté or stupidity, but I didn't know that unless you are a Democrat, you aren't allowed to talk politics in Hollywood."
But despite her political views, Angie is speaking out about her own opinions on homosexuality.
"Whether we're gay or straight, it doesn't matter," she explained.