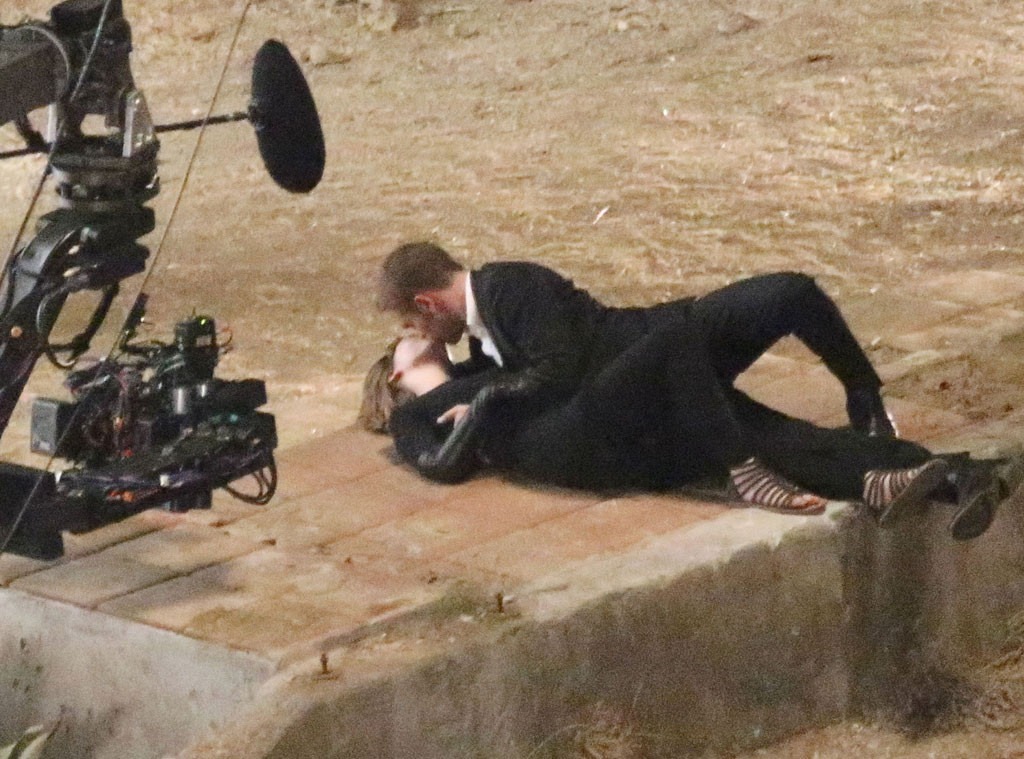 FAMEFLYNET PICTURES
Things are getting hot and heavy on set!
Robert Pattinson and Mia Wasikowska filmed a sexy make-out scene for their upcoming flick Maps to the Stars Wednesday night in Los Angeles.
R.Pattz was filmed smooching and groping his leading lady while the cameras rolled, but things were on a much more just-friends basis in between shots.
The actors were spotted laughing and joking with one another during breaks from their steamy scene.
The hunky actor, who was sporting a black suit for the shot, fixed his shirt before stepping foot into his character in the David Cronenberg-directed film.
But it wasn't so much what the two stars were doing off camera that caught everyone's attention. The PDA-heavy moment between the costars featured Pattinson caressing the brunette actress's leg and even kissing her neck.
Close your eyes Robsten fans!
And even for the always-sexy Twilight actor, shooting sex scenes are anything but comfortable.
While speaking with Germany's Interview magazine, he talked about his 2009 flick Little Ashes, in which he played surrealist painter Salvador Dalí.
The film chronicled a passionate love affair between the Spanish artist and poet Ferdico García Lorca (played by Javier Beltrán), and the 27-year-old actor recalls one particularly scandalous scene where the pair got intimate in a pool.
"The Dali production was the worst, it was mortifying," he confessed to the mag. "We were all hanging out by the pool, trying to loosen up. I was nervously clinging to the edge—and before I could turn around, the Spaniard was already naked."
"He happily swam towards me," Pattinson continued. "And I didn't have a clue how to react. I felt like Mr. Bean."
Hopefully he's gotten more comfortable on the set of his current film!